Thanks for the kind words everyone.
Not a ton (or tonne) to report. I took the day off today because I have been feeling a touch congested. So I did some school work and then applied a bunch of base paints.
On the 3 character guys, I just tried to get the first layers of metalics, red, and dark grey. Next they will get some focused recoats and the brass edge treatments, and eventually some edge highlights.
The Electropriests similarly got some base coats in metalics, reds, greys, and a skin tone. Next steps for them are a blue wash and some detailing for the electroloos in their skin and then a bunch of brass to break up all that metailic. Additionally, I put some base coats on the tracked servitors - my hope is to eventually have a few more in each squad - but 4 will do nicely for now.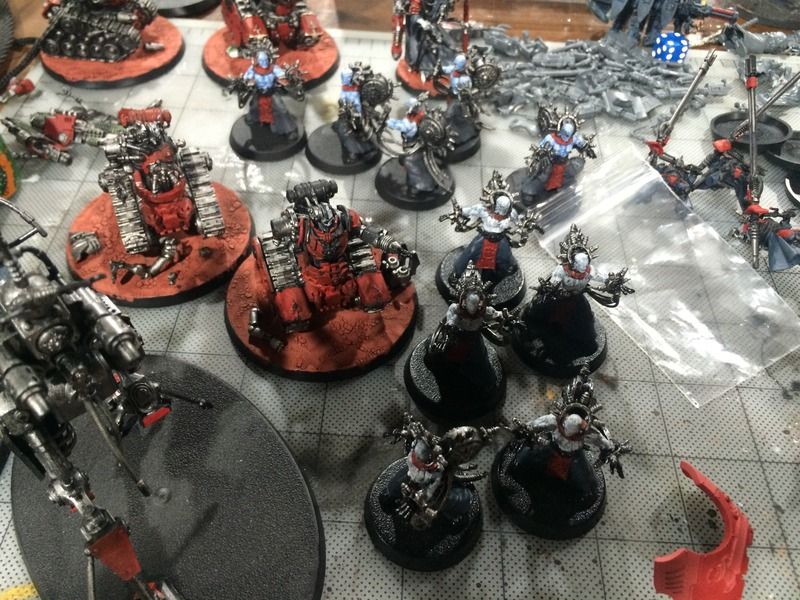 Lastly, I forgot I hadn't finished my perpetual motion walkers. I love these models but I never got back to finishing them up. I have a few bits that need gluing and a broken bit here and there (these don't travel well). These guys already had a first coat and I am adding details now. Shouldn't need too much to finish - but they are going to take a couple hours. My hope is to finish them after the toddler goes to bed tonight. You can see the Knight in the background waiting for me to run out of excuses for not painting him...