I had a big game recently with my Iron Warriors against my friend Paul's Orks and his buddy's Tau. I brought 2500 points of Iron Warriors and they each took 1250 lists and ran them together.
The armies were something like this:
IRON WARRIORS
- Dark Apostle, MoK, Black Mace (Caedes)
- Warsmith, MoN, aura
- Khorne Berserkers x9, plasma pistol x2, power fist, chainaxes
- Plague Marines x9, plasma gun x2, plasma pistol, power axe
- Chaos Space Marines x10, icon of vengeance, lightning claws, plasma gun x2, rhino with dozer blade
- Chaos Space Marines x10, icon of vengeance, power fist, melta gun x2, rhino with dozer blade
- Cultists x20, autoguns, heavy stubber x2
- Cultists x20, flamer x2
- Vindicator, siege shield
- Vindicator, siege shield
- Vindicator, siege shield
- Obliterators x3, MoN
- Land Raider, extra armor, dozer blade, twin linked bolter
ORKS
- Warboss with mega armor, lucky stix (Gob Noblin)
- Weirdboy (Blog Magog)
- Mega Armored Nobz x4, all kindsa gubbins, battlewagon
- Flash gitz x10, battlewagon
- Stormboyz x12, nob with klaw
- Buggies x2, rokkits
- Grots x12
- 'Ardboyz x12, nob with klaw trukk
TAU
- Commander with fiddly bits
- Riptide with large weapons that make me physically uncomfortable
- Broadsides with rail rifles (modeled with missiles but you get the point)
- Crisis suits x3 with marker drone x2
- Crisis suits x3 with marker drone x2
- Fire Warriors x6 with devilfish
- Fire Warriors x6 with devilfish
We rolled up a really silly Maelstrom mission called The Spoils of War. You have three cards every turn, but any cards that instruct you to capture objectives can be scored by both sides. This means that if I draw a "secure objective 3" card, if my opponent gets it on his turn, he's got that point and my card gets discarded. It's interesting but kinda silly. We figured out who would be warlord (Warboss Gob Noblin for the Ork/Tau team, and the Dark Apostle for the Iron Warriors.
Anyway, we did Hammer and Anvil deployment, and that looked something like this (not pictured: giant aztec temple with a bunch of cultists on it just off to the left)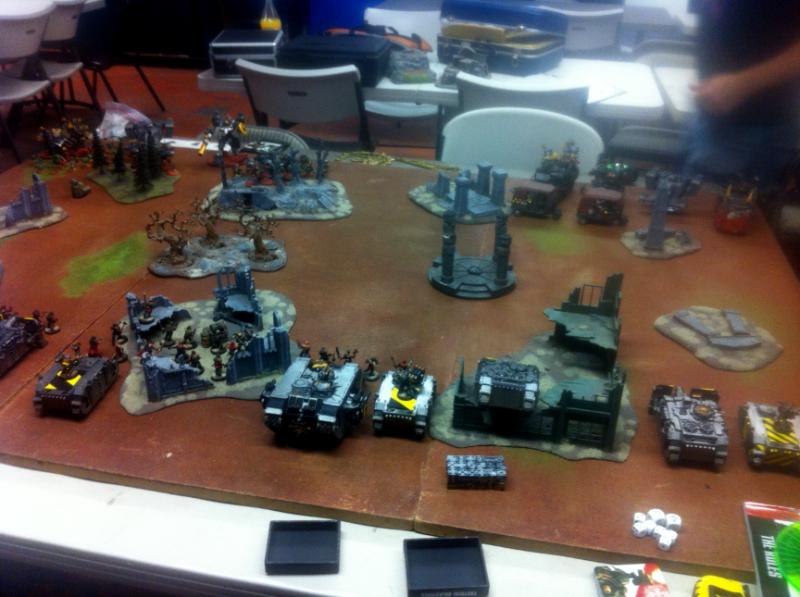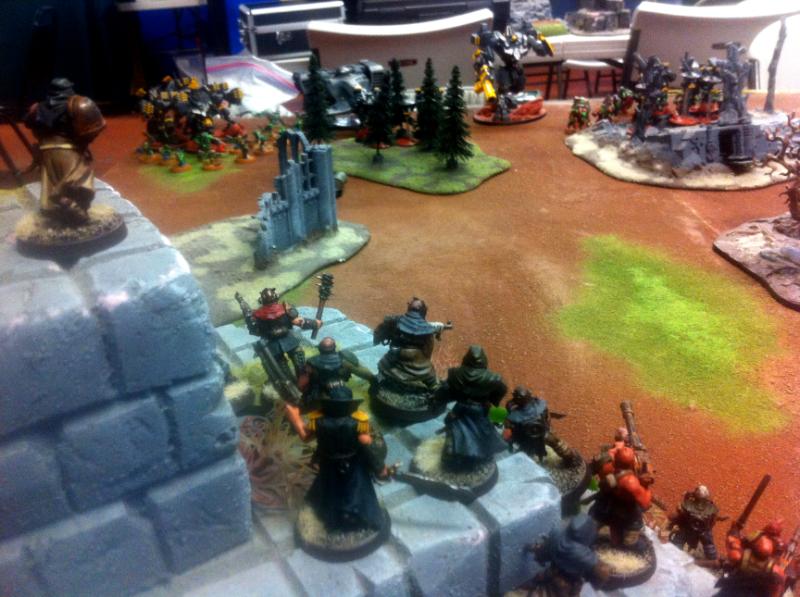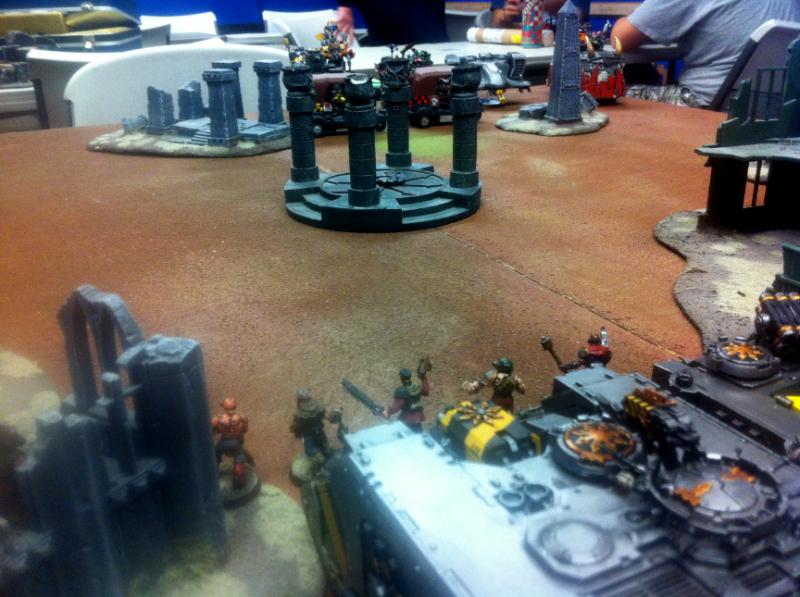 The Orks failed to seize, so it was on to turn 1 for Chaos!
TURN 1
I have my first of two pretty lousy shooting phases, as the combined fire of my Vindicators and lascannons is able to wreck one AV10 buggy and ding the trukk for a hullpoint. Things moved up, and while I scored a point for first blood and another for killing a unit (as per my maelstrom cards) it wasn't terribly impressive: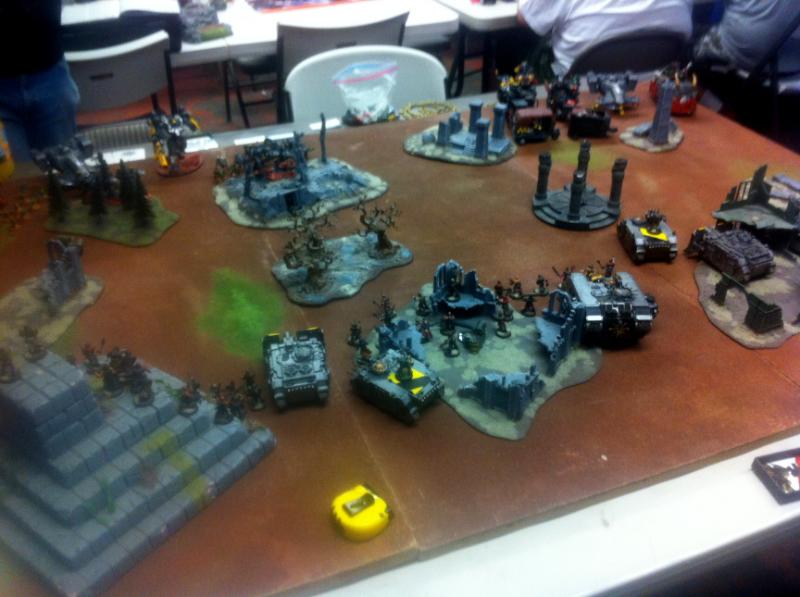 Blog Magog tries to cast killbolt and immediately suffers a Perils of the Warp result. However, he goes super saiyan and survives, causing one hullpoint to one of my Vindicators. Other shooting kills my left flank vindicator because I'm dumb and left the left flank facing the Broadsides. Welp. The Orks and Tau do get a point for holding objective 6, but they draw a card for objective 4, which a mob of my cultists are happily lounging around on.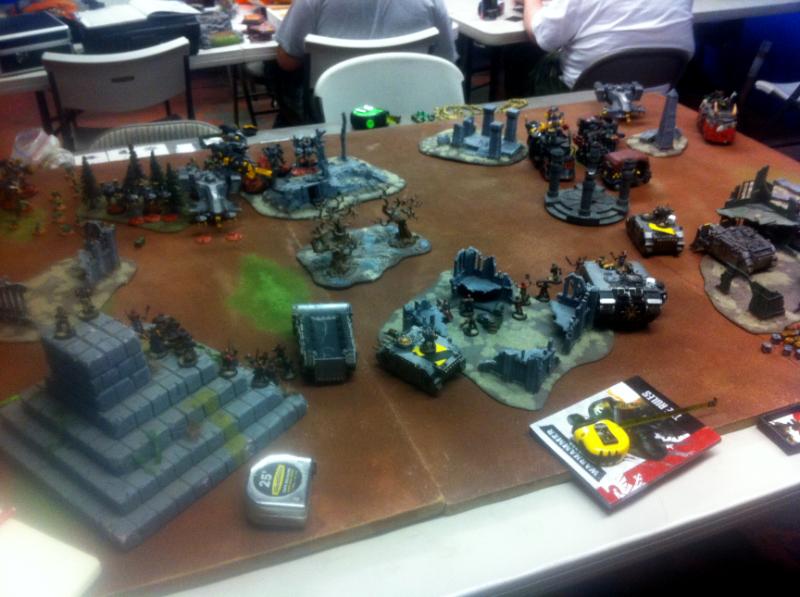 CHAOS: 2 ORKS: 1
TURN 2
I roll for my Oblits to come in and they stay out of it. I position my squads and vehicles so I can try and take out both Battlewagons, disembarking plasma squads to hit their side armor. My dice continue to be lousy and it takes the entirety of my shooting to down one battlewagon, which I only get when a Demolisher shell strays dramatically off target and hits it in the side. I pick up a point for the objective 4 card my opponents drew on their turn.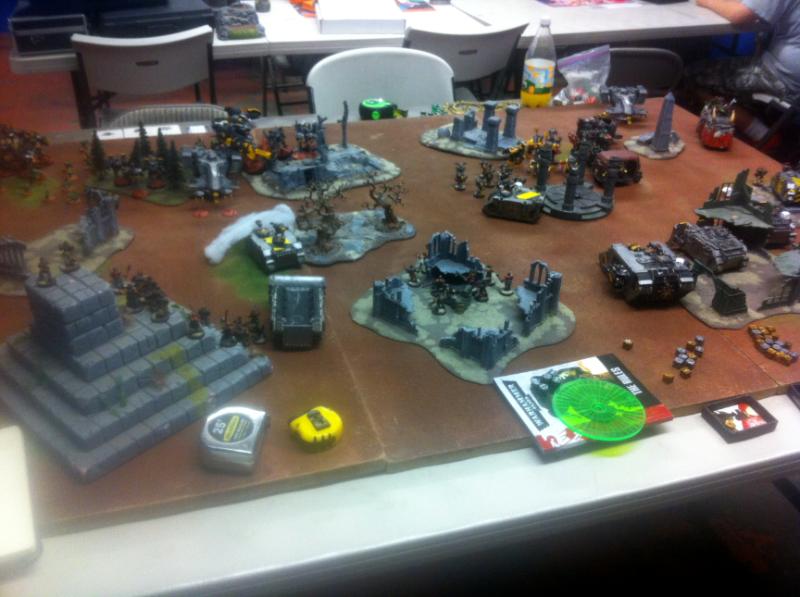 The Orks maneuver around: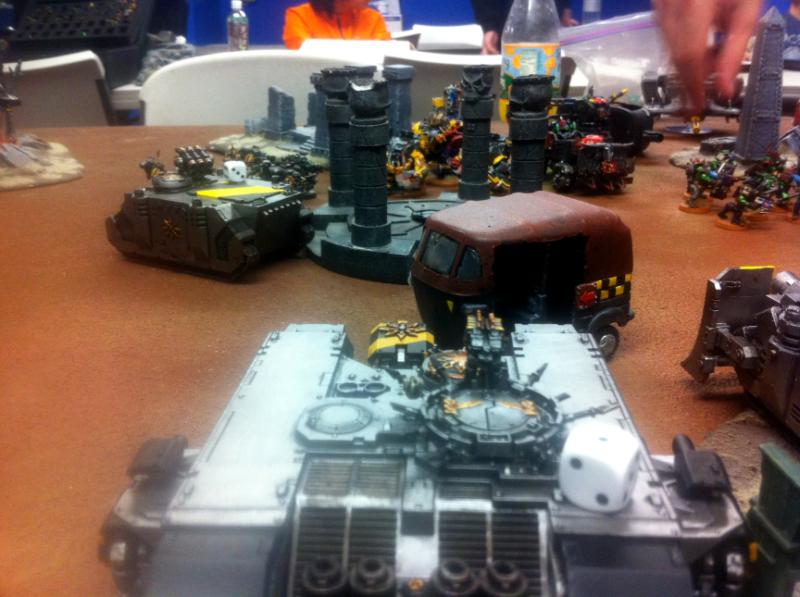 The Weirdboy casts Killbolt on my Land Raider, but fails to manifest it. The buggy zips around and puts a rocket up my Rhino's tailpipe, wrecking it. The Marines who got out to kill the far right flank Battlewagon are summarily vaporized by the wagon's Flash Gitz, leaving the champion, banner, and one schmuck standing. The Nobz charge the Plague Marines, and while I'm able to overwatch one down, my dice are pretty cold. The Warsmith wounds a Nob in a challenge while the squad gets cut down to the champion and two other guys: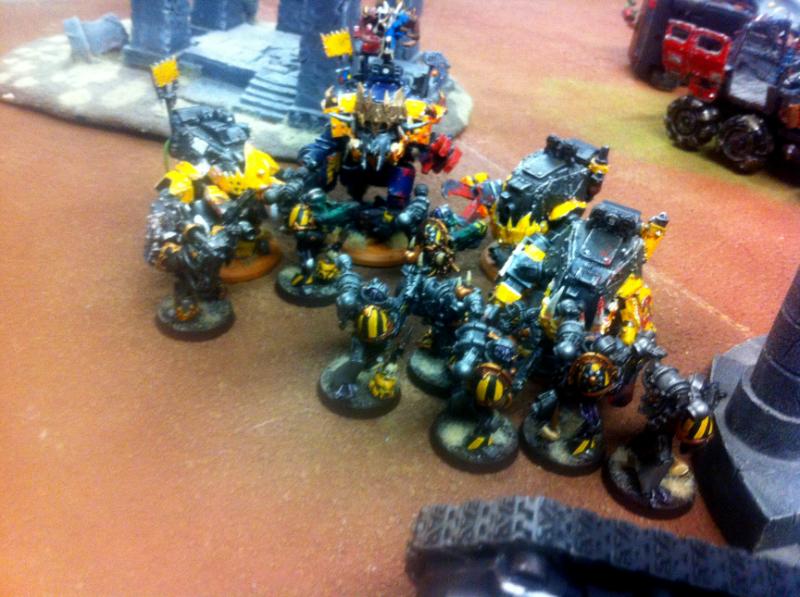 SO MUCH STEEL AND YELLOW
Also the 'Ardboyz kill my second Vindicator, proving my rule that you take three Vindicators so two can die and a third can do something useful. The Orks pick up another point, but also draw another objective 4 card, which my cultists are still on!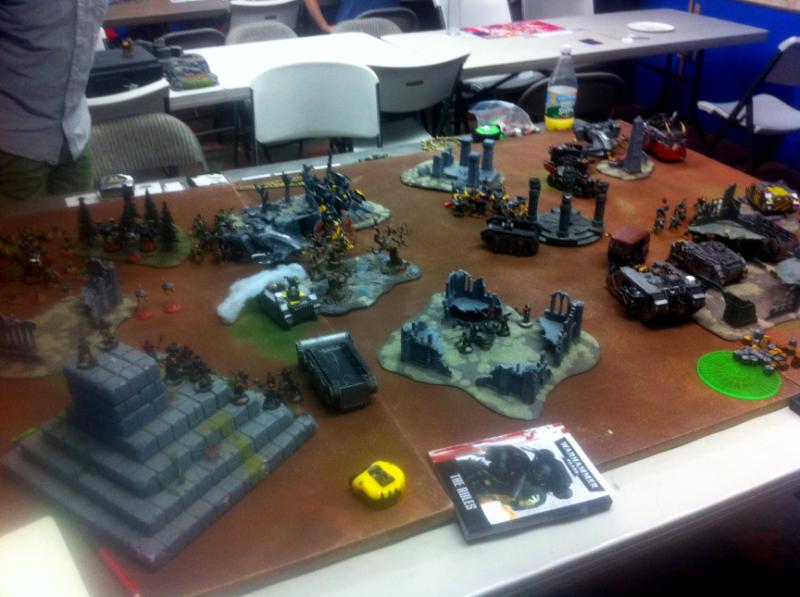 CHAOS: 3 ORKS: 2
TURN 3
I drop Oblits behind the Broadsides, but they mishap, going into ongoing reserves. Seeing my flank in danger of collapsing, I commit my Khorne Berserkers to the assault with the MANz and their boss, Gob Noblin. They charge over the Chaos temple, with chants of "BLOOD FOR THE BLOOD GOD" ringing across the battlefield:
I back this up with some shooting from my Land Raider, which wounds the Riptide, and my other Vindicator shoots at the 'Ardboyz, killing 3. The remnant squad that got chewed up by the Flash Gitz charges them, whiffs, and dies miserably. But let's get on to the main attraction: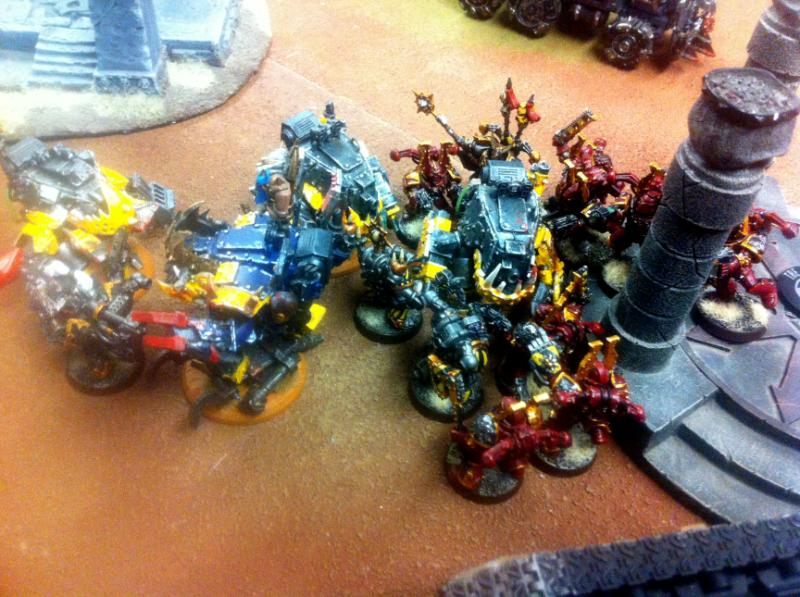 BLOOD FOR THE BLOOD GOD! SKULLS FOR THE SKULL THRONE!
The Berserkers unleash a hellish 32 attacks at strength 5, rerolling misses due to the Dark Apostle's Zealot rule. They put enough wounds on the unit to chew up the Nobz and carry a few wounds onto the Boss, whose Lucky Stix save him for a round. The Warsmith finishes off the Nob he was dueling with, but even on this sacrificial altar, the Dark Gods find it to be an unworthy offering. Gob Noblin runs from the fight, his bodyguard killed to a man, but not before taking a few Berserkers with him. I get points for the aforementioned objective 4, destroying a unit in close combat, and killing a character this round.
"The Dark Gods call you, greenskin!"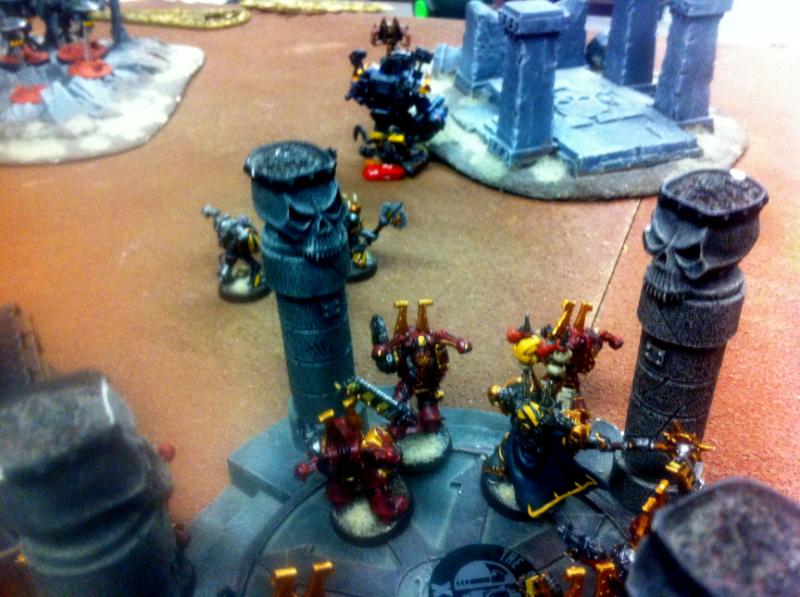 End of the round looked like this: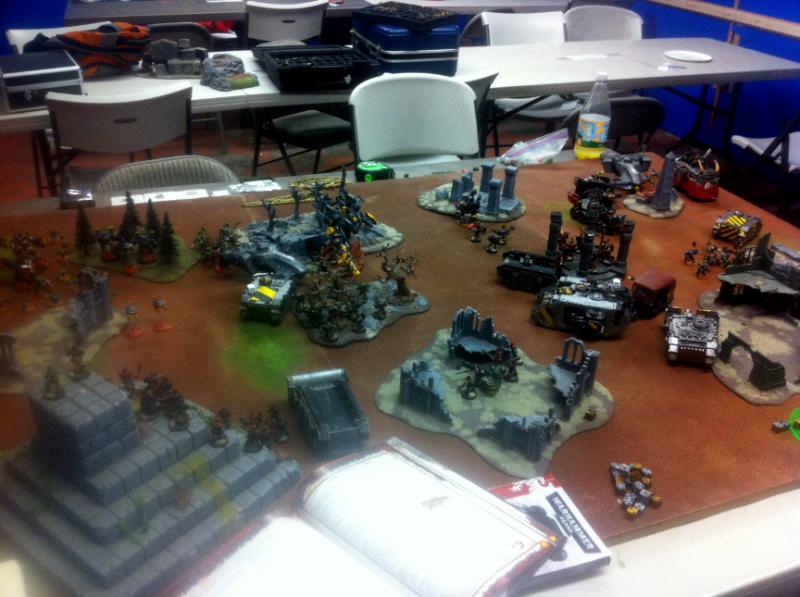 The Orks and Tau decide enough is enough with the cultists on objective 4 and start diverting some attention towards them. Tau fire puts some hullpoints on the Land Raider and kills a bunch of cultists. The Riptide advances, looking imposing as it overheats its generator and wounds itself.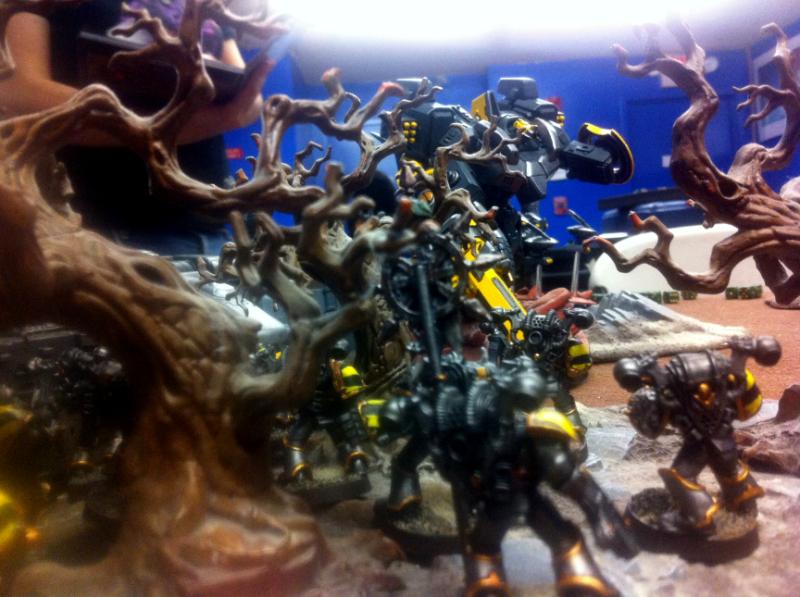 The Orks, however, are much more enthusiastic, and call their WAAAAGH! Gob Noblin rallies, but can't do much on the turn he regroups except prepare to be charged by the Plague Marines, but assault sees the 'Ardboyz charging the Khorne Berserkers, eager to skill their blood on the altar:
The berserker chainaxes pay for themselves as they carve through the Ork armor before the greenskins can get a hit in. The Dark Apostle challenges out the Nob, but again, he is an unworthy offering to Khorne. (A shameful nob.)
In Orkier news, this grumpy sumbitch right here: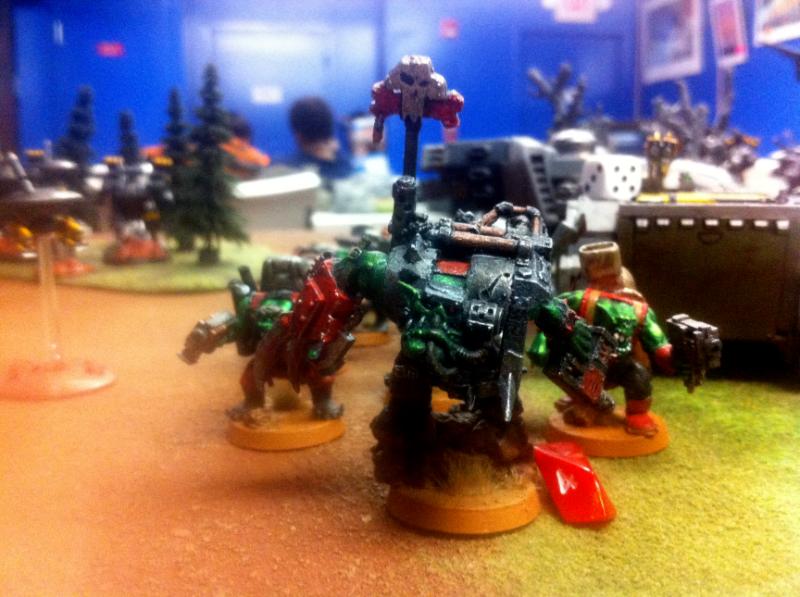 He and his Stormboyz gun their jetpacks and make an insane charge on the cultists on objective 4: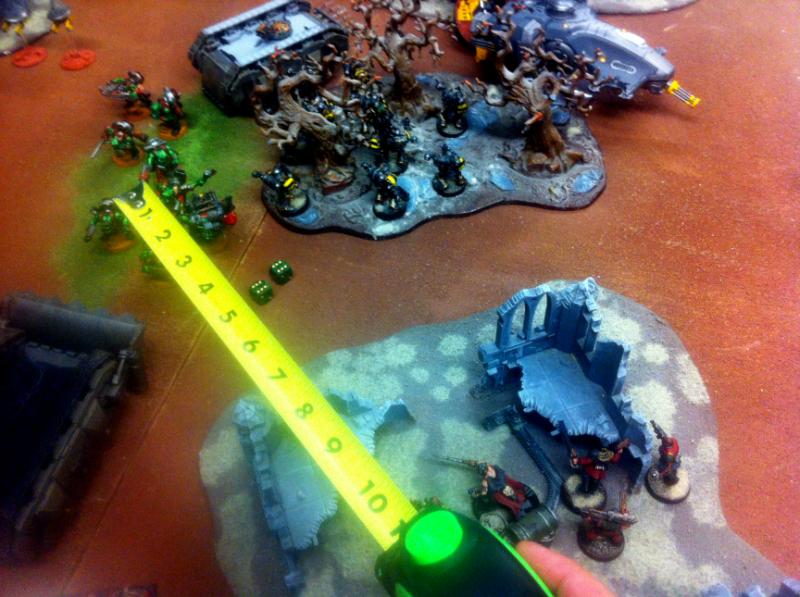 While a few Stormboyz are killed by overwatch and dangerous terrain, they clean the cultists out of the ruin. This scores them an objective 4 card, the third they've drawn this game!
CHAOS: 6 ORKS: 3
TURN 4
The Oblits mishap and I roll a 1, making them my first unit to be lost in the warp since 6th edition. The cultists shoot up the stormboyz, My remaining Marine squad tries to kill the Devilfish only for it to jink out of the way, and the Riptide proves remarkably resilient to fire from my Land Raider. The remaining Techno-Plague Marines charge into Gob Noblin, and Warsmith Thrax issues a challenge. The two die simultaneously, but it is deemed, again, an unworthy offering.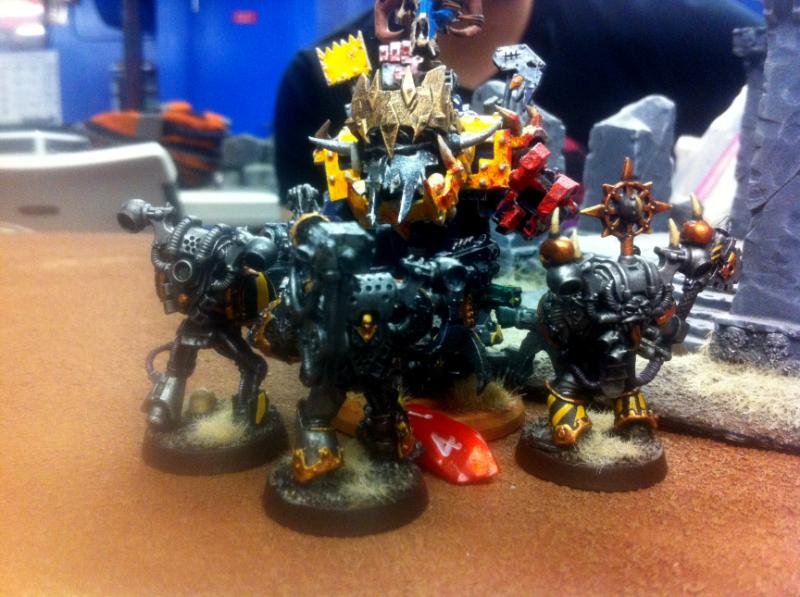 I pick up a point for Slay the Warlord, objective 5 (the temple) and two points from the Kingslayer card, which gave D3 additional points for killing the warlord.
The Stormboyz crash against the Cultists, being shot up and killed in assault.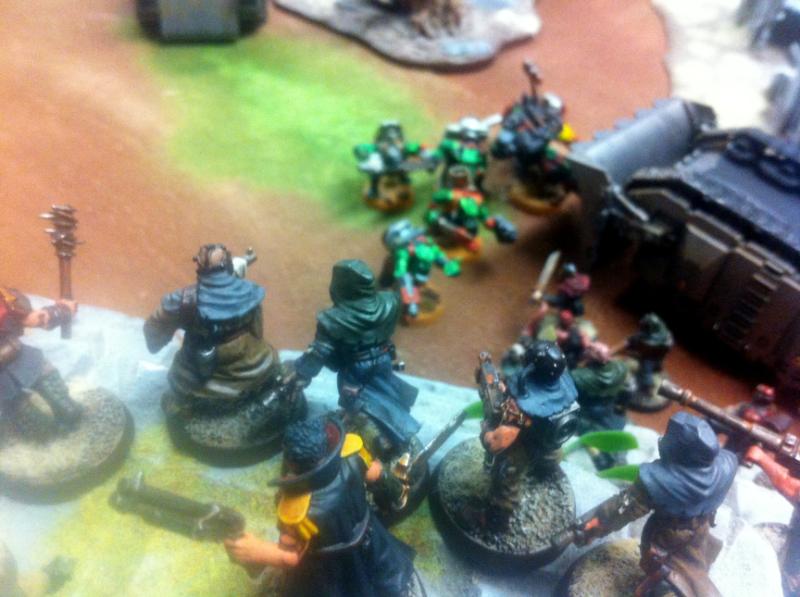 The Tau commit their Fire Warriors, gunning down a number of Chaos Marines in the woods: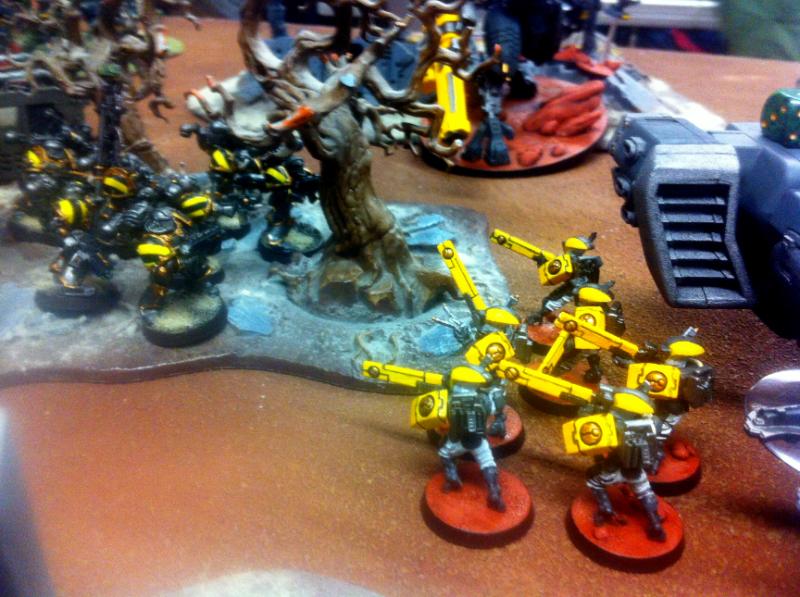 The other Fire Warriors plink away and kill one Plague Marine. The Flash Gitz gun down my Berserkers, leaving only the Dark Apostle wounded, but alive. The Orks and Tau pick up a point, I think from an objective card.
CHAOS: 10 ORKS: 4
TURN 5
The Dark Apostle retreats back to the Land Raider; there's been enough blood shed for his taste today! My Vindicator guns over to objective 4, since THAT card came up again, and my Marines and Techno-Plague Marines charge the Riptide: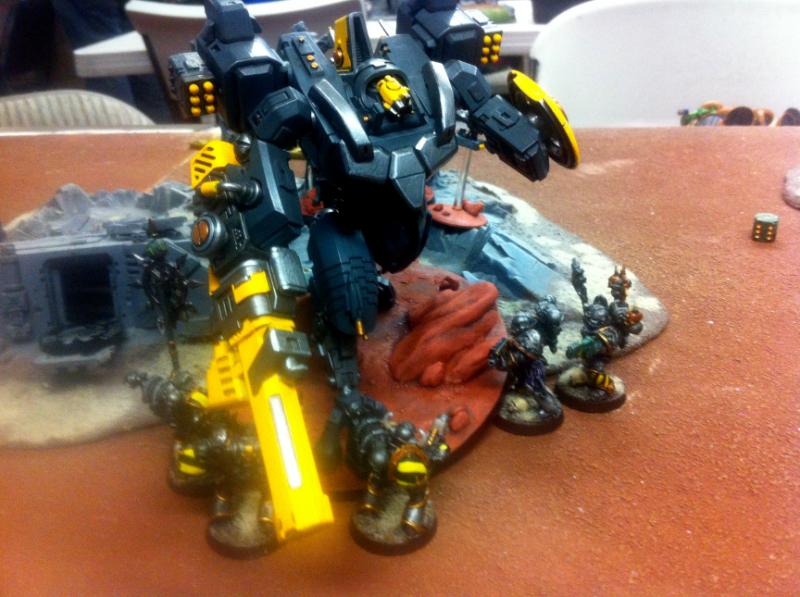 I pick up points for objective 4, having three units in my deployment zone, and probably for killing something, somewhere:
Pre-assault end of turn picture: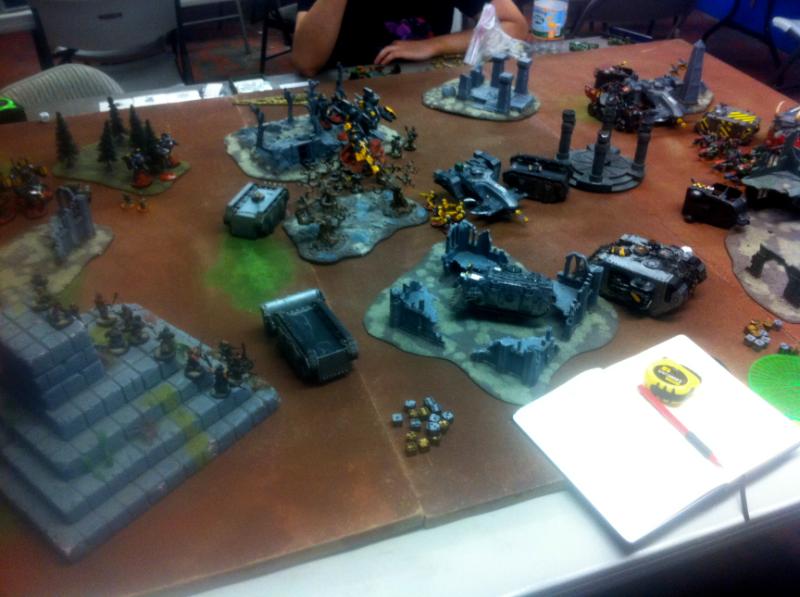 The Weirdboy is remembered, and he tries Killbolt on my Land Raider again. The spell is denied. Shooting sees a lot of shots plinking off the remaining Vindicator and the Land Raider, and assault sees the Riptide going down from power axe and power fist strikes. However, the Orks and Tau drew three objective cards, and secured all three, netting them three points. End of the turn looked like this: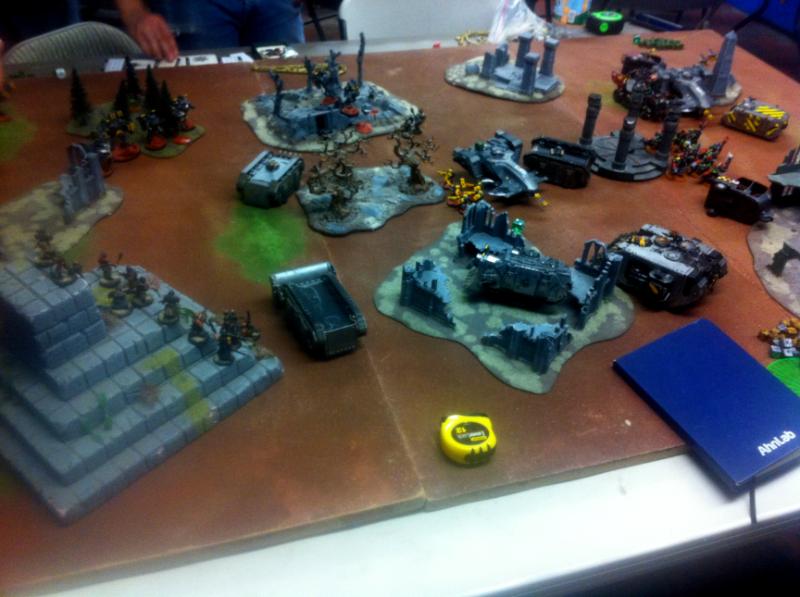 CHAOS: 13 ORKS: 7
We rolled to go on, and we went for another turn or two. The only hope for the Orks and Tau to recover was to table me, but that wasn't going to happen with my Land Raider still rolling around the table. At the end of 6 we called it, right before all the teenagers coming in to play Yu-Gi-Oh! started their thing.
CHAOS VICTORY
It was fun playing against Paul's Orks, and while his friend's Tau looked good, they didn't really commit to the battle. He's new to the game and I think if he was able to put more pressure on and use his Fire Warriors and suits more effectively, it could have been a very different game. That being said, having the objective 4 card come up so many damn times was equal parts hilarious and frustrating, since it was gonna be hard to shake off a backfield objective holder for the Orks and Tau, who were geared more for anti-armor than anti-infantry. It was a fun game though, with some pretty great showdowns and countless skulls being given to Khorne!