So this isn't as organized as a lot of my battle reports, but hey, pictures of cool models doing cool stuff.
Hamslammed with BuffaloChicken last night, and it was a good time. He brought his assortment of Jurassic Park-themed Catachan badasses, and I rolled out my more-90s-than-Soundgarden Ultramarines. We got the "Prepared Assault" mission out of the old Battle Missions book, where there are three objectives in the defender's table half, and they can deploy up to halfway up. The attackers (IG) had to start 18" or more out. Also, there were three artillery markers - basically a piece of paper which you drop and wherever it lands causes a S8 AP3 Ordnance Barrage hit. The IG get 2, the defenders get 1. We set up: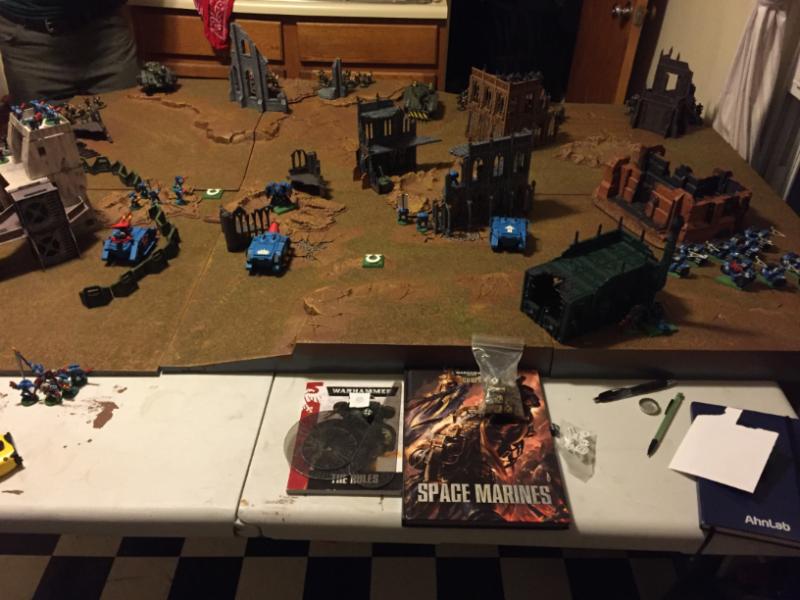 Buffchix's mans look even better in person, and there were a bunch I actually hadn't even seen before!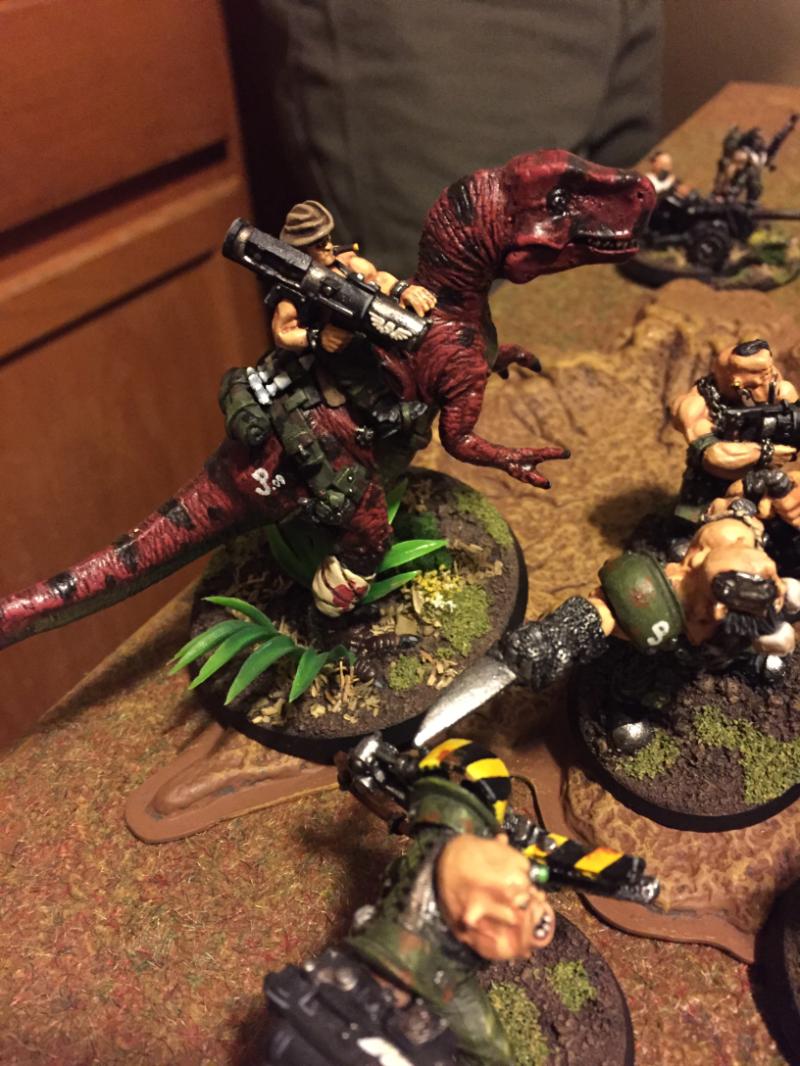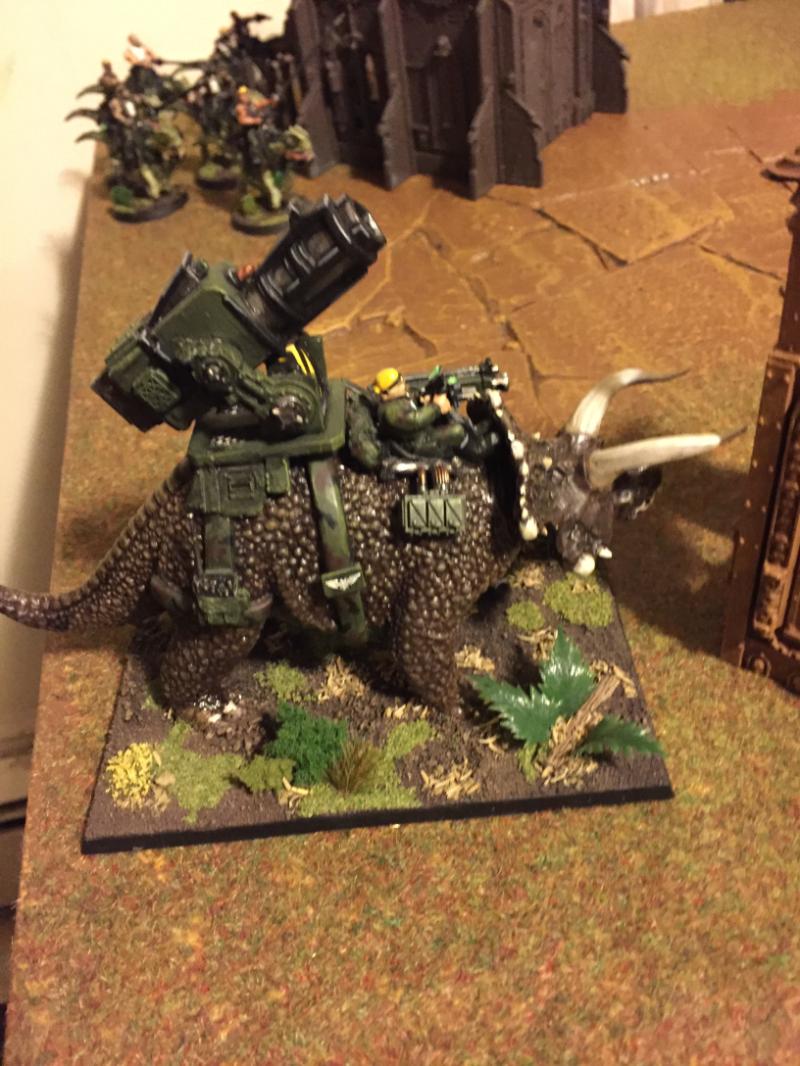 I got to roll the seize the initiative, but got a 2. It was his first go! His forces stayed pretty much where they were, but caused some casualties on my combat squad near the bastion.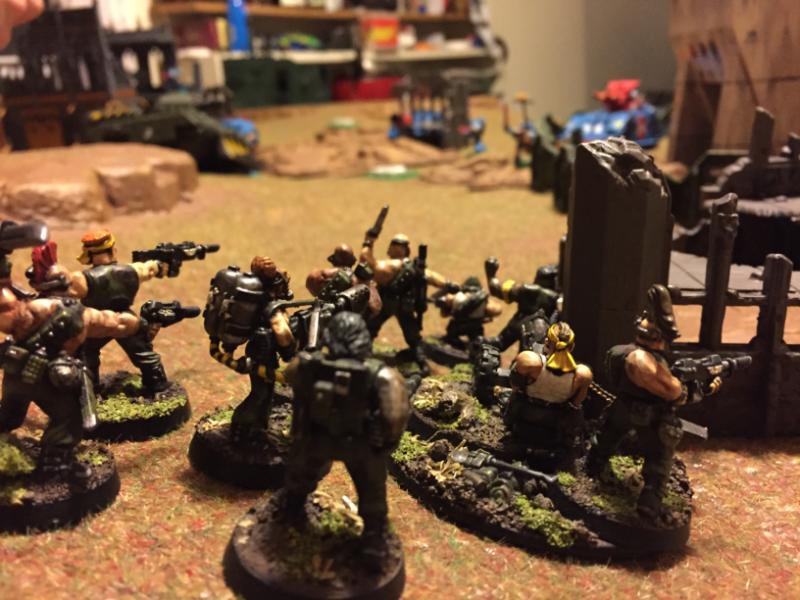 In the center I had a Terminator squad holding the objective, since I figured they'd be hard to shift.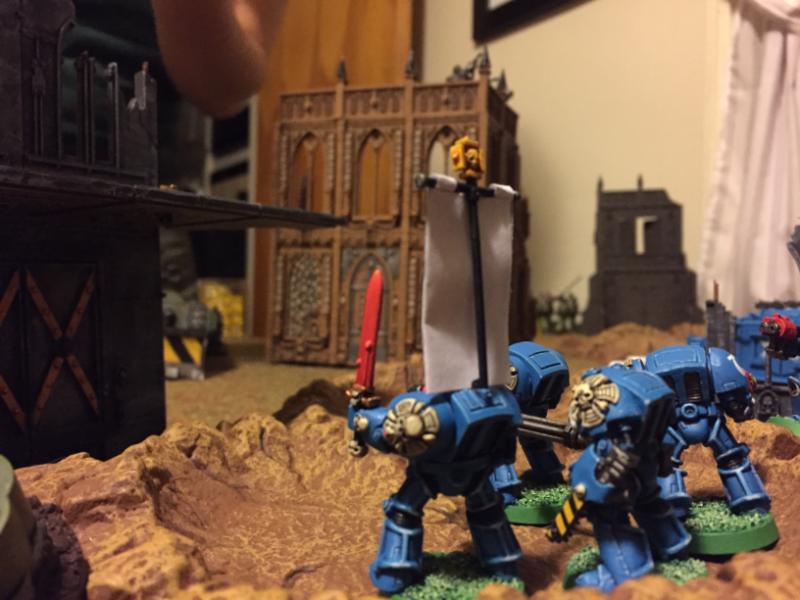 Sergeant Guinness and his boys might have had other plans for them though: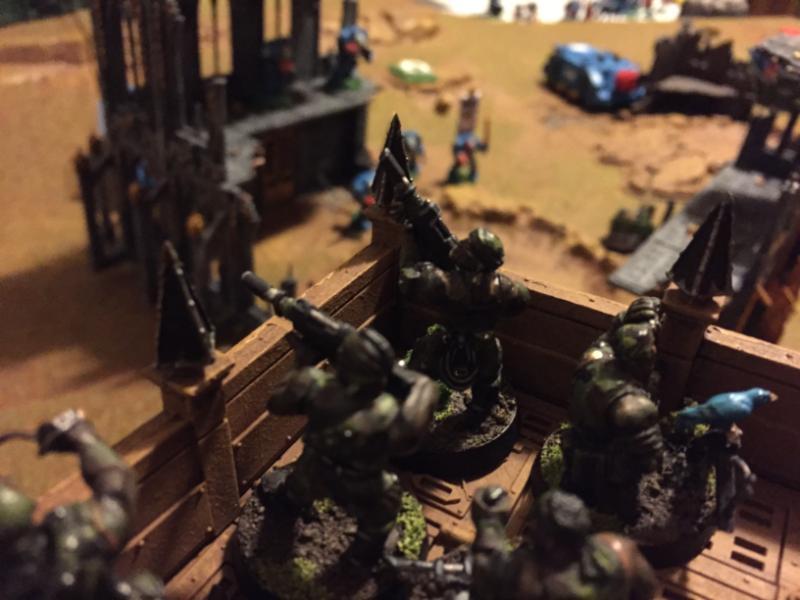 Meanwhile his rough riders waited patiently on the flank, hoping they wouldn't get mercilessly boltered by my bikers. Oh, speaking of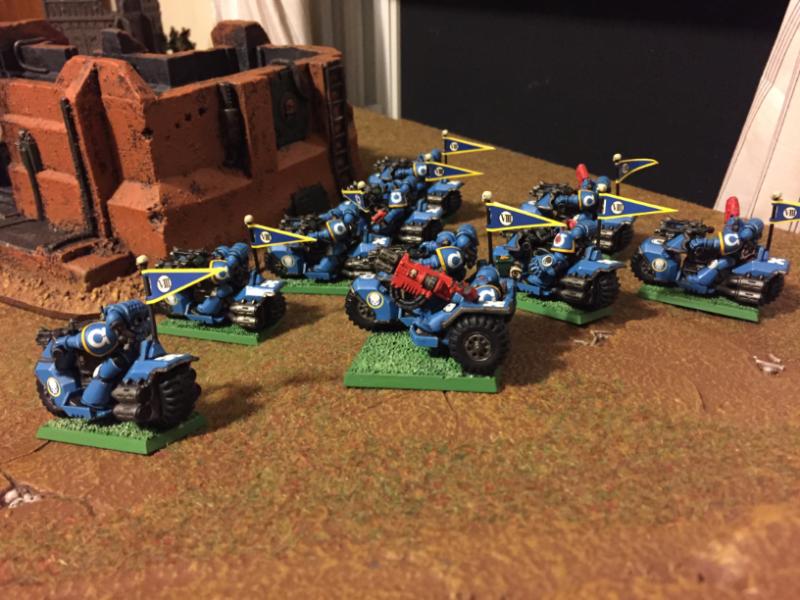 Here's the bikers who mercilessly boltered them.
The bastion wasn't an objective, but I had it pretty well fortified. I had a combat squad up top: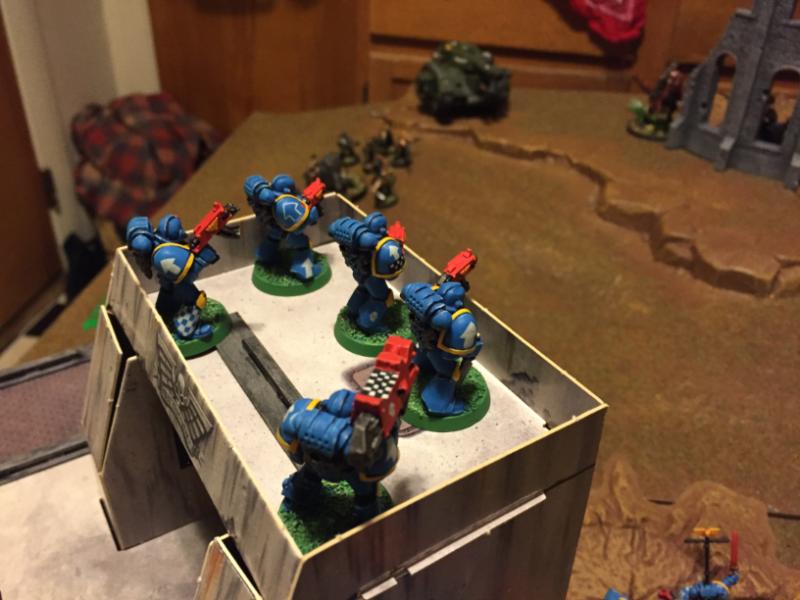 And some Arbites (counts-as Scouts) on bottom: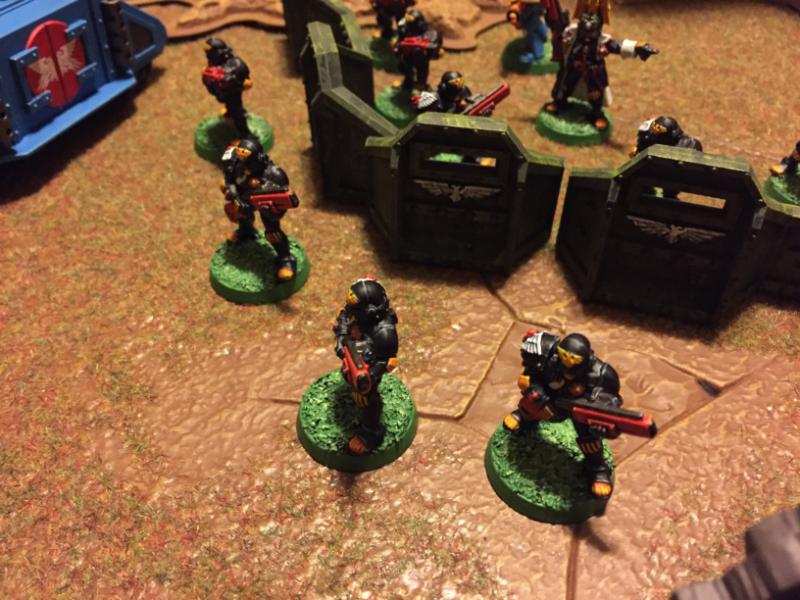 These guys just kind of went back and forth a bunch with the Catachan squads on that side of the board, while Dreadly rolled up and punched out the Hellhound: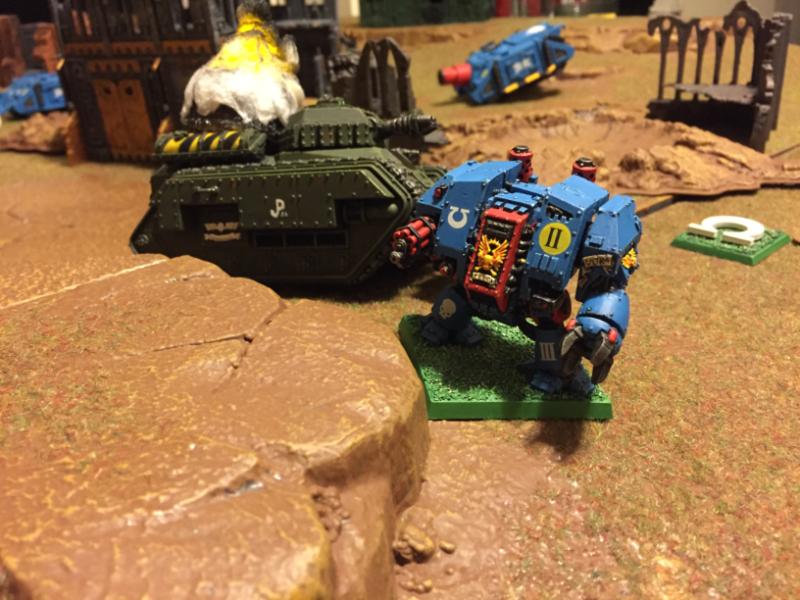 Then from out of nowhere, the surviving Rough Riders attacked!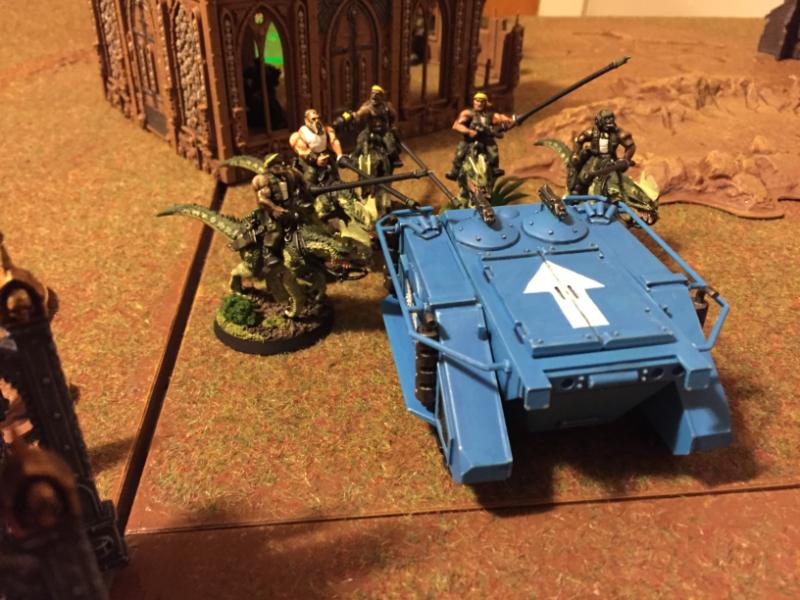 They managed to wreck the Rhino, forcing the Marines inside to bail out. Of course, with them bailed out...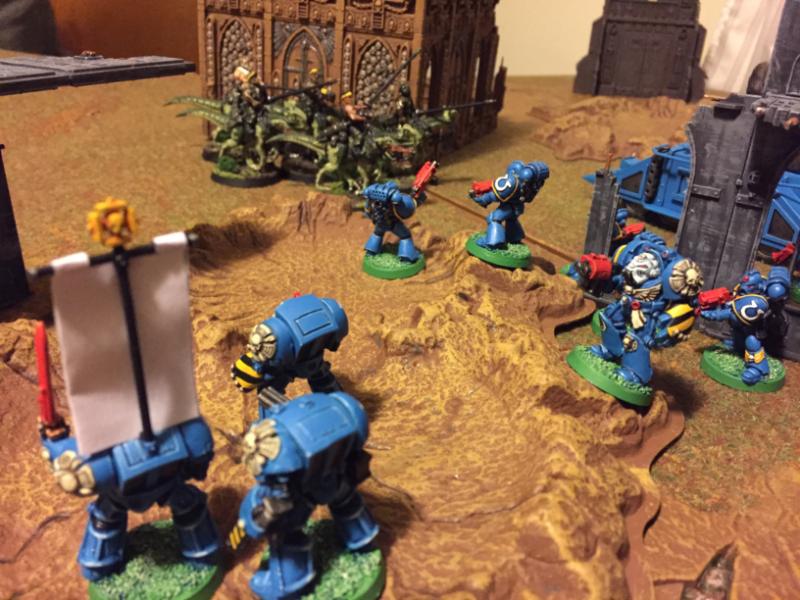 ... the Rough Riders got shot up real good.
End of that turn looked kinda like this: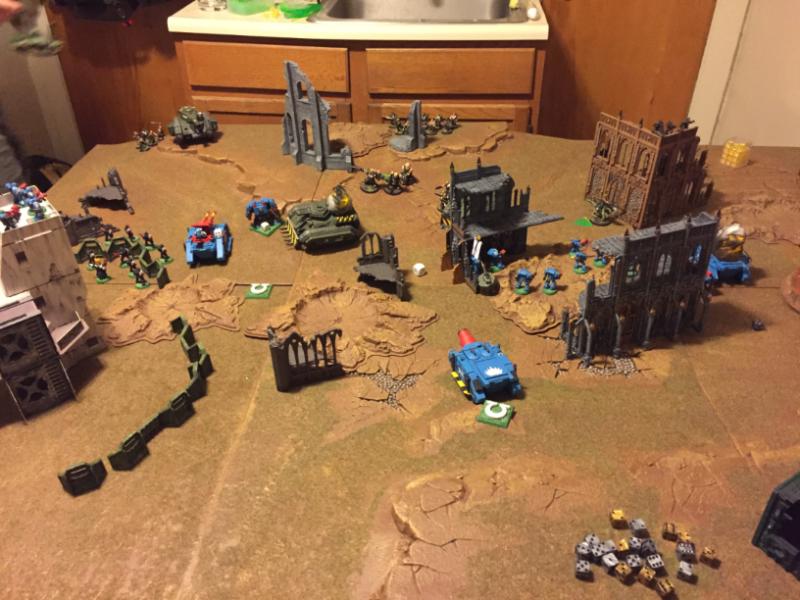 The Catachans on my left flank made a cautious advance, with my defanged Dreadnought being immobilized by missile launcher fire: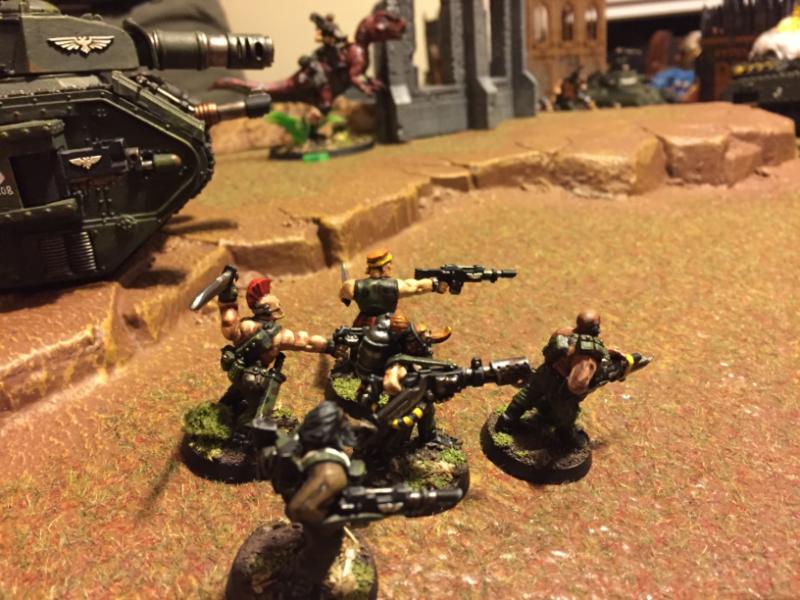 Buffchix dropped his artillery marker to try and hit the squad of Marines near his surviving Rough Rider, but well
With no other sirs to look out for him, the sergeant got pasted.
The Valkyrie swooped in around now, dumping off a flamer team but keeping Colonel "irongut" Jameson inside: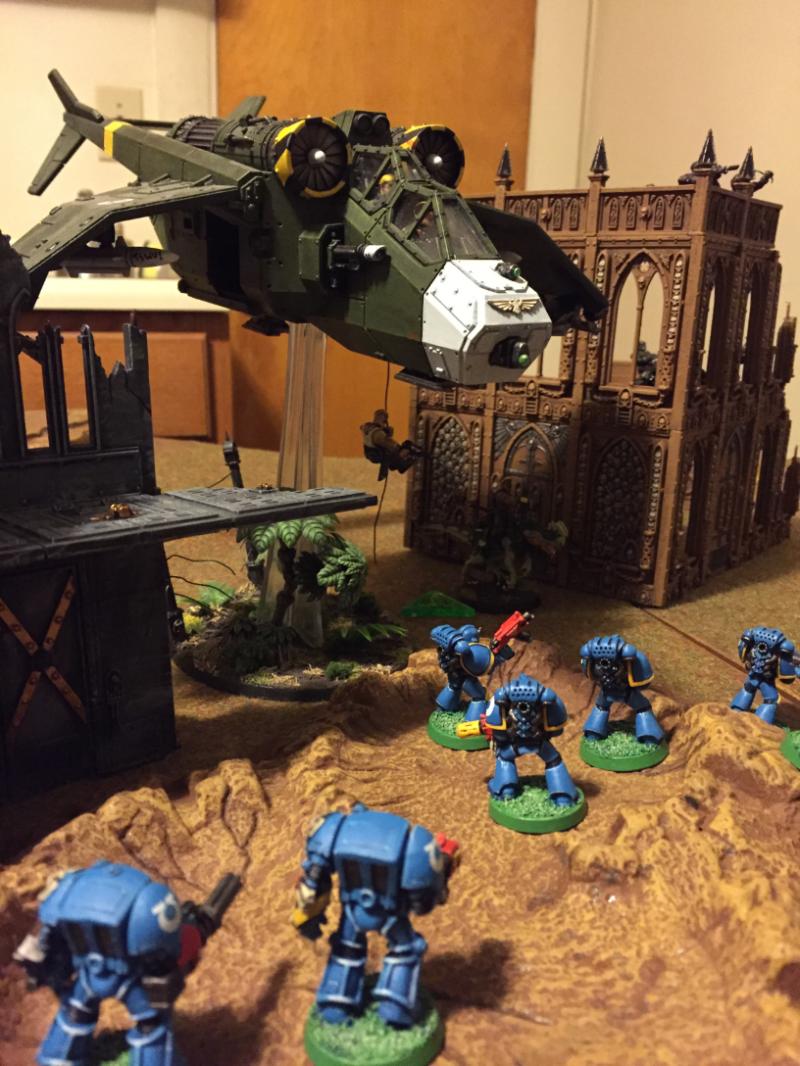 And the flamer team started sneaking up on my pair of surviving Terminators: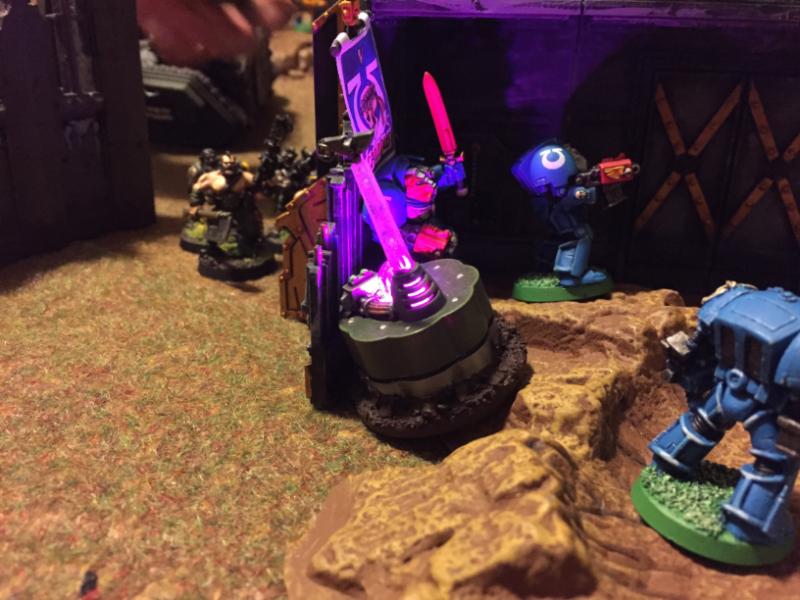 By the way, that objective light changes colors, and it's awesome: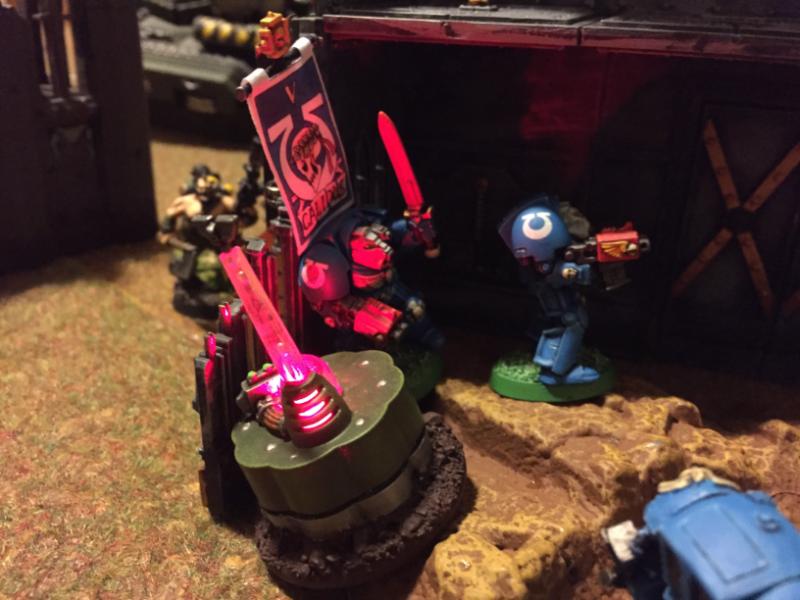 The Valkyrie unloaded a bunch of missiles and lasers and other nastiness into my Tactical squad below it, causing some heavy casualties: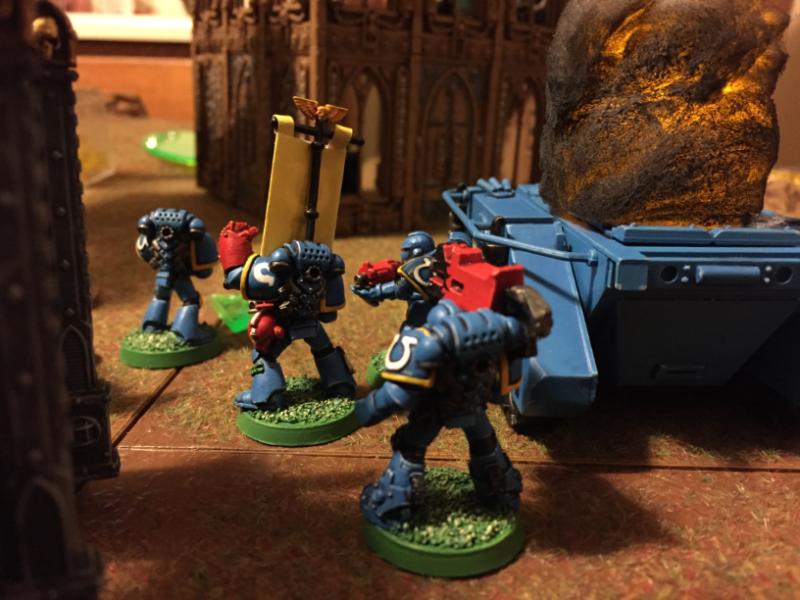 Unfortunately the Ogryns didn't get to do much, as they were routinely gone to ground while my Vindicator pounded them into the dirt. Some other Catachans rushed behind them and used them for living cover: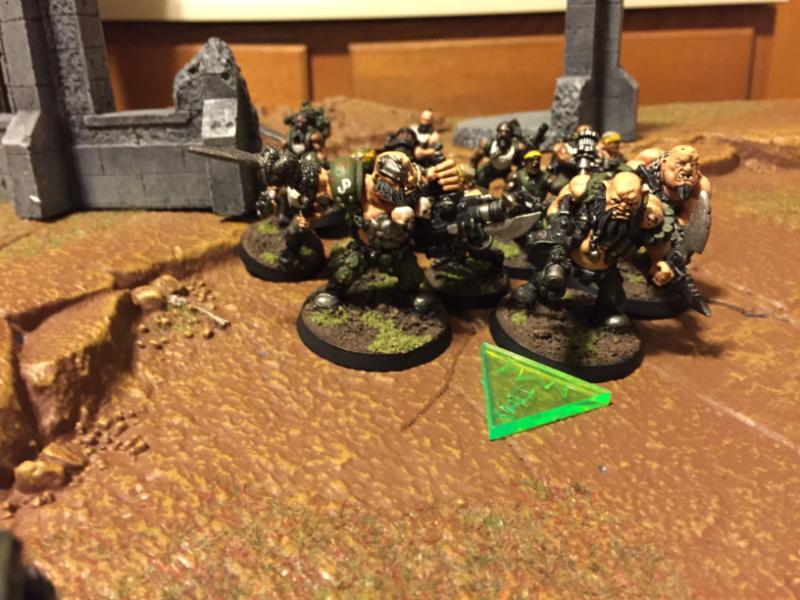 A tiny little battle ensues on the left flank. While the Arbites use their krak grenades on the Leman Russ, the surviving Tactical Marine engages in a slapfight with the remainds of another Catachan squad:
After two rounds of combat, the flamer Marine comes out on top.
After sustaining some damage to their ride, Sicarius and his boyos got out, and started hunting down Jameson and his flying metal box: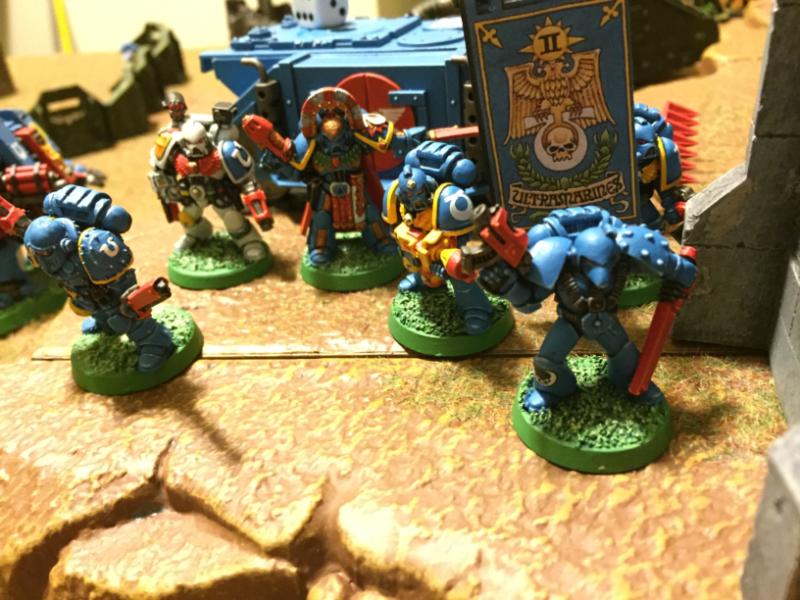 And with them, the middle became a clusterfuck with the bikers blowing up the Griffonceratops, Sicarius joining the fray, and the surviving Terminators and tactical Marines doing their thing: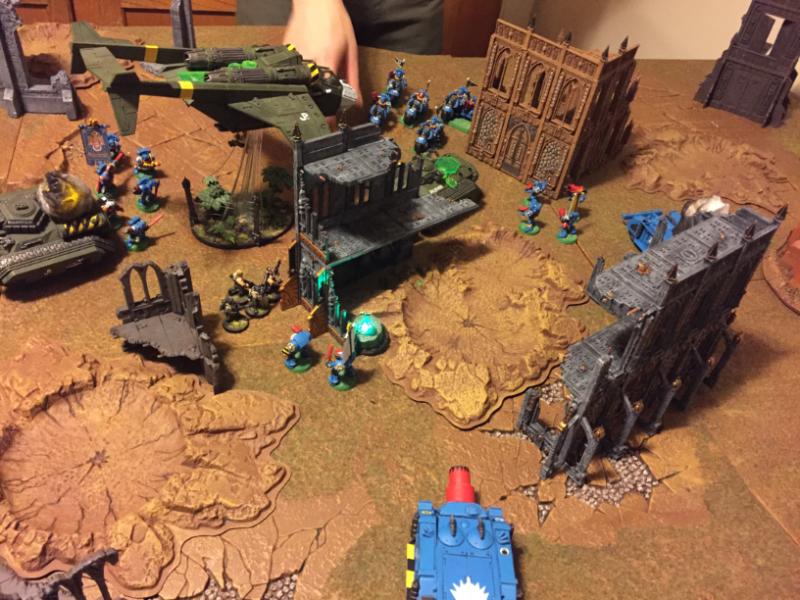 Jameson's plane was brought down by fire from the Dreadnought, Sicarius' squad, as well as the combat squad on the roof of the Bastion. The plane went down, and Jameson and his command squad went after the Terminators to try and claim the central objective: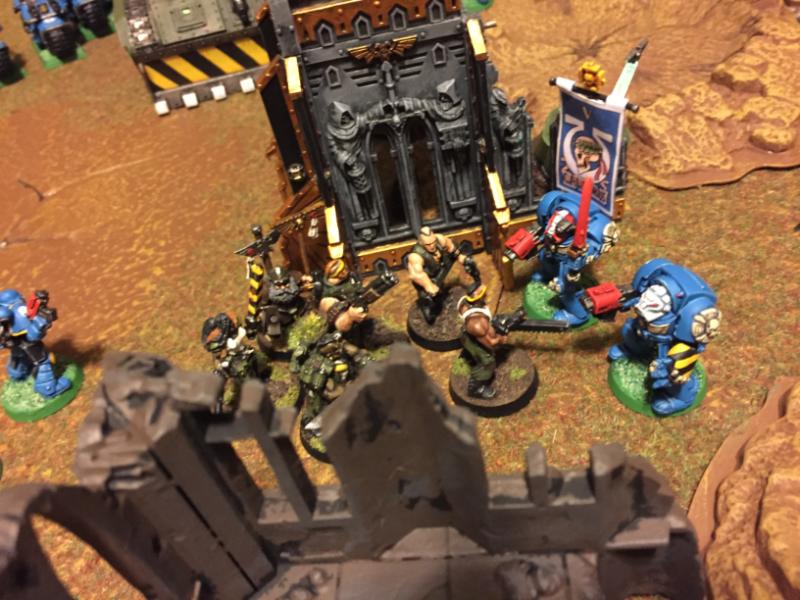 Irongut takes them both down singlehandedly, but only before Sicarius and his band of jerks roll up behind them, torch them and charge!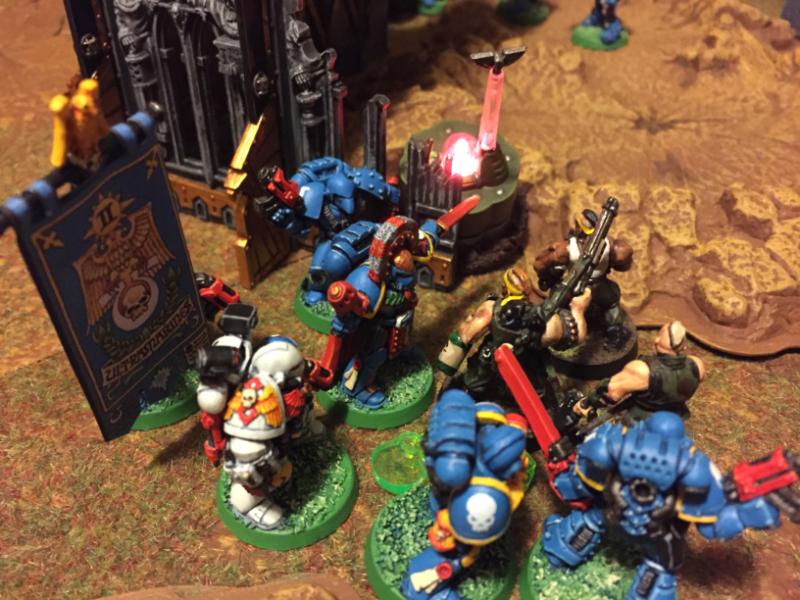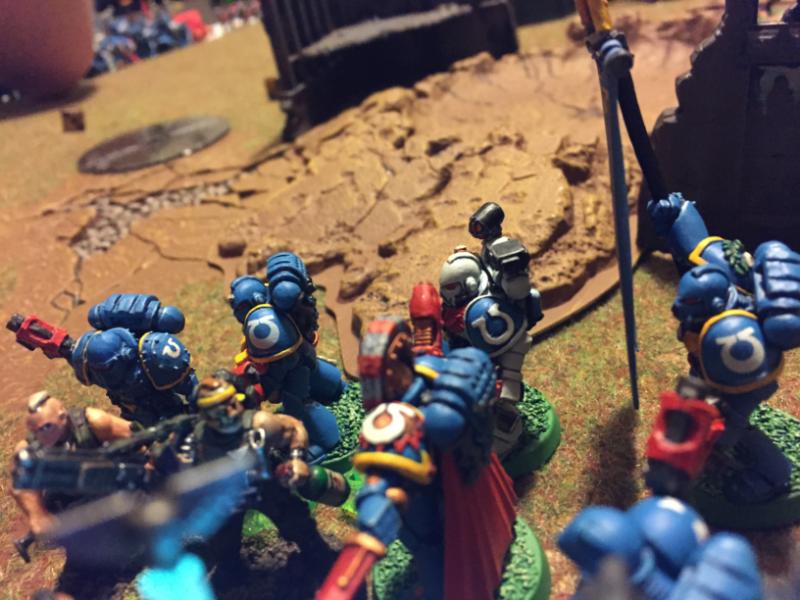 The remainders of the Catachan command squad are beaten down pretty succinctly, but Jameson and Sicarius throw down in a challenge over two turns. Sicarius is wounded once, but fails to wound back in the first round. Come round two, Sicarius is able to get two wounds in on the already wounded officer, bringing down the hard-drinking Catachan!
It was the bottom of turn 5 and there were no longer any Catachans left on the table - victory for the Ultramarines!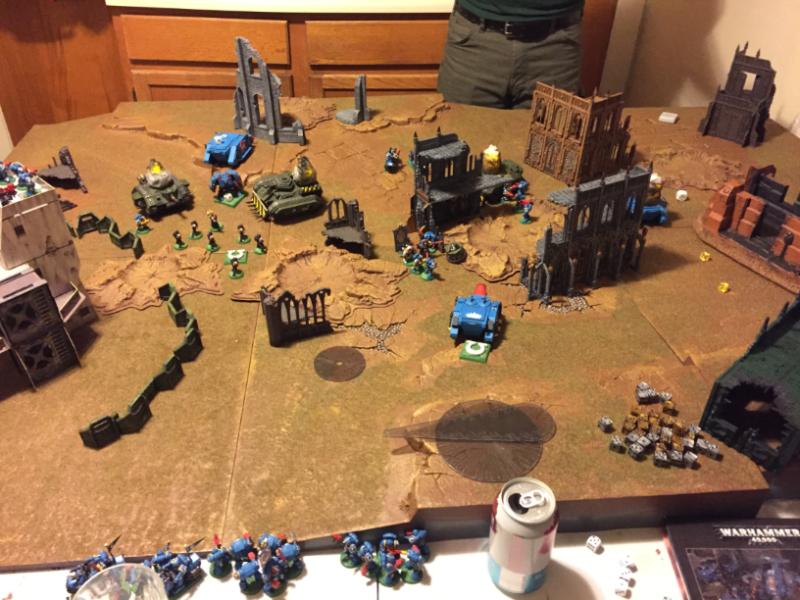 It was a bit of a one sided game, after a generally ineffective first turn for him and some really good shooting and saving on my end. That being said, it still had some really fun moments, culminating in a duel with our commanders that was pretty sweet. Rough riders got to blow up a tank, bikers got to run the board, and a Leman Russ earned the name "Cop Killer" after gunning down a number of my Arbites! It was a damn good time and I'm hoping we can get another game in before too long. Good beers, good game, and good company.
And of course, I celebrated my victory by blaring this:
https://www.youtube.com/watch?v=J9FImc2LOr8