I played a game last night with Fred where I brought my Guard and he brought the Harrowed, his sick daemons army.
My list was a Ground Assault Formation out of the Militarum Tempestus book, backed up by a blob of Guardsmen, lascannon, autocannon, and mortar teams, a company command squad with a lascannon and master of ordnance, and a Leman Russ battle tank to round it out. He brought a pair of Soulgrinders, marked with Khorne and Tzeentch respectively, a Lord of Change, a Herald of Tzeentch on a chariot, some packs of Horror and Plaguebearers, and an allied Chaos Space Marines detachment with a squad of Marines, a Warpsmith, and a Hellbrute. Things were gonna get messy!
We rolled up the first Maelstrom mission, where we would draw up to three cards every turn. We also houseruled it so you could just discard one card a turn so nobody got stuck with a whole hand of "shoot down the enemy flyer" when their opponent doesn't have any planes. We rolled up Hammer and Anvil deployment and this is how I set up: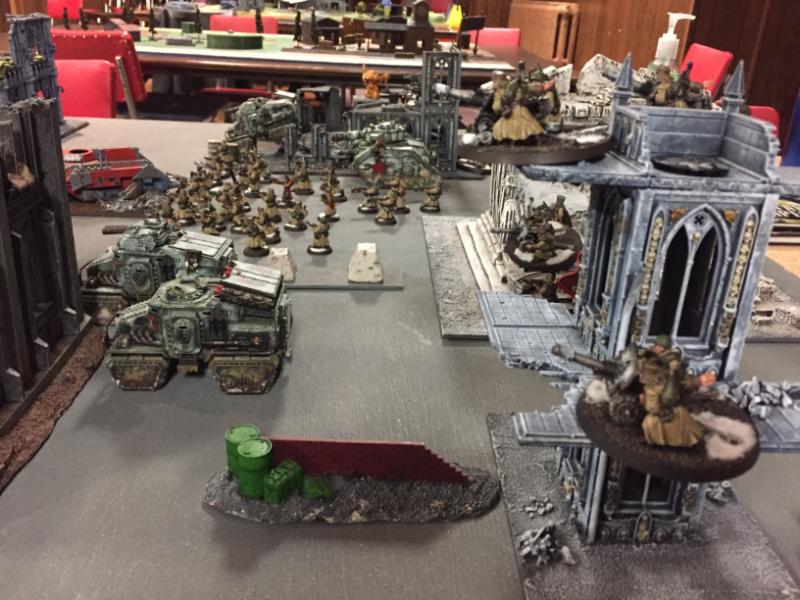 The Valhallans were here to reclaim this tainted forge world from the grips of the Harrowed, whose evil Warsmith had tainted the factories and forges into creating his own abominations of Chaos. Sorcerers were raising the dead and derelict Servitors into flesh-horrors possessed by the warp, and it was up to the Valhallan 32nd Rifles and their stormtrooper battalion allies to put a stop to the servants of the dark gods.
I got first turn, where I advanced and did some shooting. It was night fight, so between my gun teams failing to follow orders and the shrouded saves on the Daemons, I couldn't quite kill anything.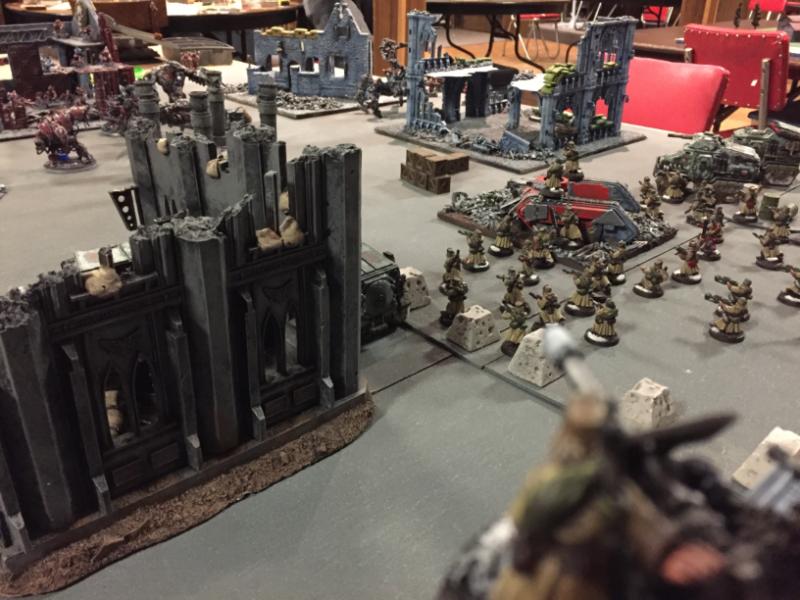 I did, however, collect three points for holding two of the objectives and a "hold the line" card, where I got points for not having enemies in my deployment zone.
On his turn, he summoned up some Bloodcrushers to ruin my day: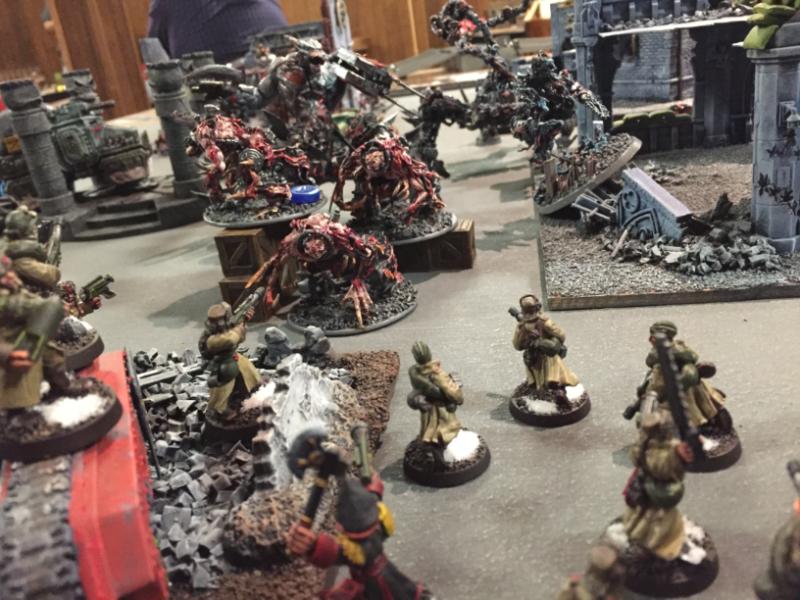 The ever-shifting Lord of Change moved her tendrils about, and a thousand mouths chanted hexes and spells in long-forgotten languages. Machines and flesh strewn about on the field became one, and a trio of monstrosities was born.
A horde of Plaguebearers also appeared out of the warp, deep striking between my line and my backfield support teams: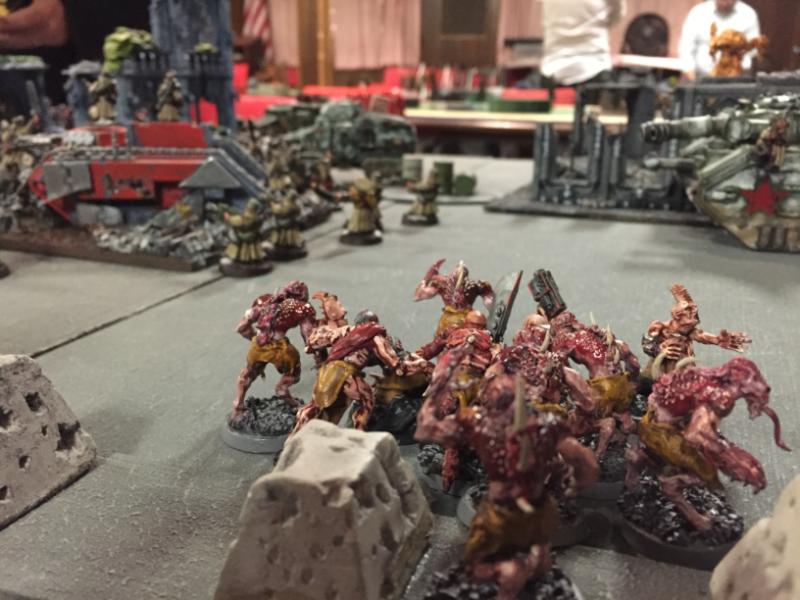 None of the Daemons were able or willing to charge this turn, and shooting, while deadly, only served to bloody my large blob squad in the center. First Blood was still up in the air, and it came back down to my turn.
Commissar Vult shouted for his men to advance, each man knowing what would be in store for him were he to retreat. They waited for the order before leveling their lasguns and unleashing volleys of fire on the tech-horrors before them.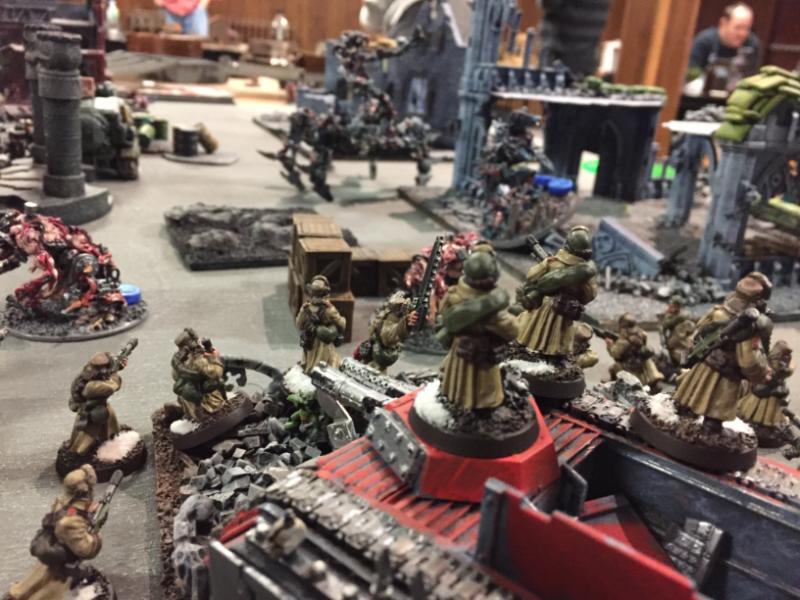 A Stormtrooper squad jumped out of their Taurox by the blob squad, and between those two units I was able to wipe out the Bloodcrushers. My Stormtrooper command squad fared much poorer, firing three plasma guns and two hellguns into a Chaos Space Marine squad, causing one wound, losing a soldier to a Gets Hot! roll, and rolling a trio of 1s to wound. My platoon command squad was able to put some flame templates down on the Plaguebearers near me, killing half of them. I picked up First Blood for blowing up the Hellbrute finally, as well as another point for zipping a Taurox over onto an objective on a Chaos temple near my opponent's deployment zone.
The Harrowed struck back hard, unleashing shooting all over. The Soulgrinders chewed up my blob and gutted the nearby Stormtrooper squad, and the Chaos Marines gunned down my Stormtrooper command squad, leaving only the medic who wasn't able to save anybody: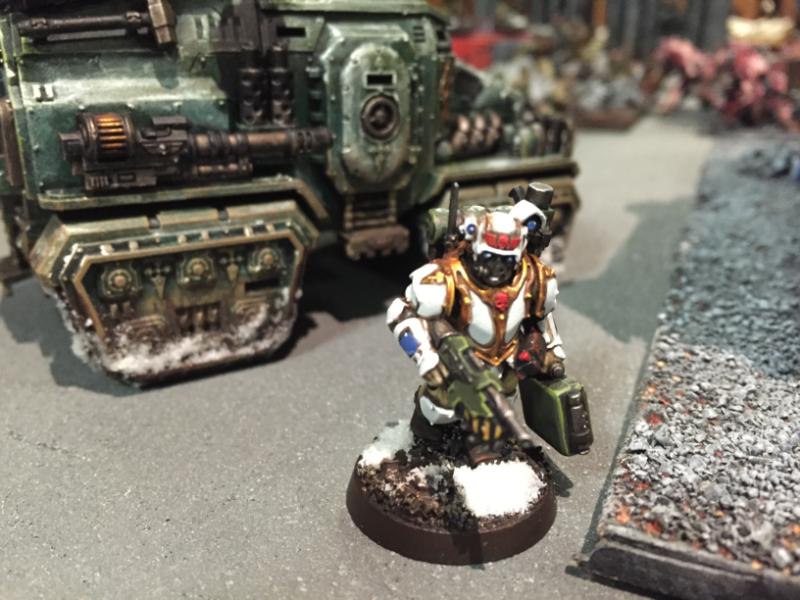 The Bloodcrushers were summoned again, popping back up right near where they died:
To the Guardsmen's horror, the beasts they had just put down shuddered back to life! Flesh reknit, metal bent into shape, and the blood-crazed machine horrors were back on their feet and hungry for flesh.
My opponent picked up two points this turn for slaying the Warlord (my Stormtrooper commander) and for an objective card I think.
The backfield of the Harrowed put some fire into my Tauroxes that had been rushing around there, but didn't do anything more than a glance here and there. The Lord of Change tried and failed to make a charge. The Plaguebearers moved in on my company command squad, not quite there yet.
On my go, the platoon command squad chased the plaguebearers with their flamers, but didn't do much damage. The wounded Stormtrooper squads got back in their damaged Tauroxes while my Guardsmen held the line: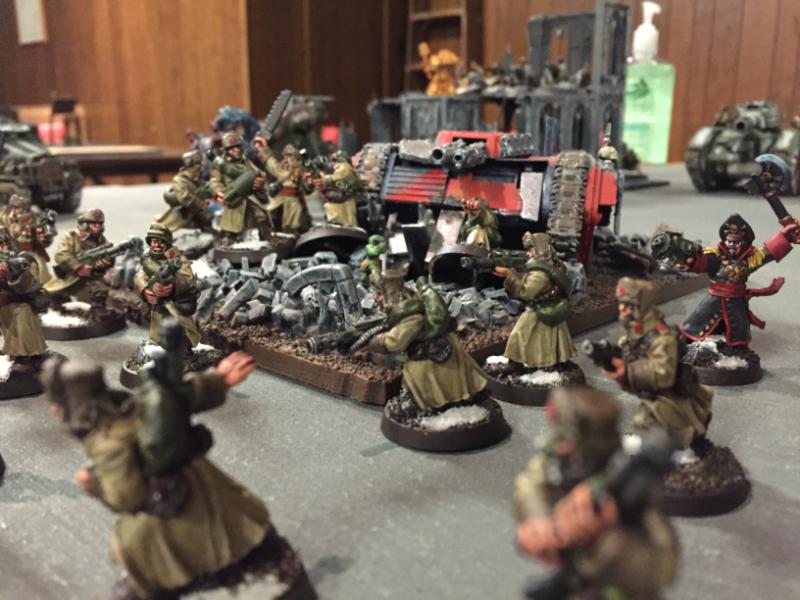 My advancing Stormtroopers rolled up and tried to do some damage to the Horrors he had in the backfield, and they damaged a few. My Taurox took a glance because the Warpsmith had put a machine curse on it, causing all weapons to Get Hot. I finally brought down the Khornate Soulgrinder, although my Lascannon teams still weren't following the order to Bring it Down. They're going to be in for a lashing when they get back to HQ...
I put a load of fire into the Lord of Change, taking 3 of his 5 wounds away. A rerollable 3++ save is really hard to deal with, it turns out! I was able to chew up the Bloodcrushers again, but not wipe them out as I was hoping.
On his turn, the Lord of Change cast some power or another but got a Perils roll, causing a fourth wound. Earlier, a Herald of Tzeentch had gotten possessed on a Perils roll, causing him to die and a new Herald to appear in his place. We figured it was a plot of one of the Horrors in the squad to ascend to a higher level of daemonhood, and he saw his opportunity and took it! The Chariot also dropped in near my Taurox loaded with melta Stormtroopers. The Bloodcrushers got into assault with the blob, causing some wounds but leading to a standstill, the Lord of Change wrecked a Taurox, and the Plaguebearers finally got into assault with my command squad: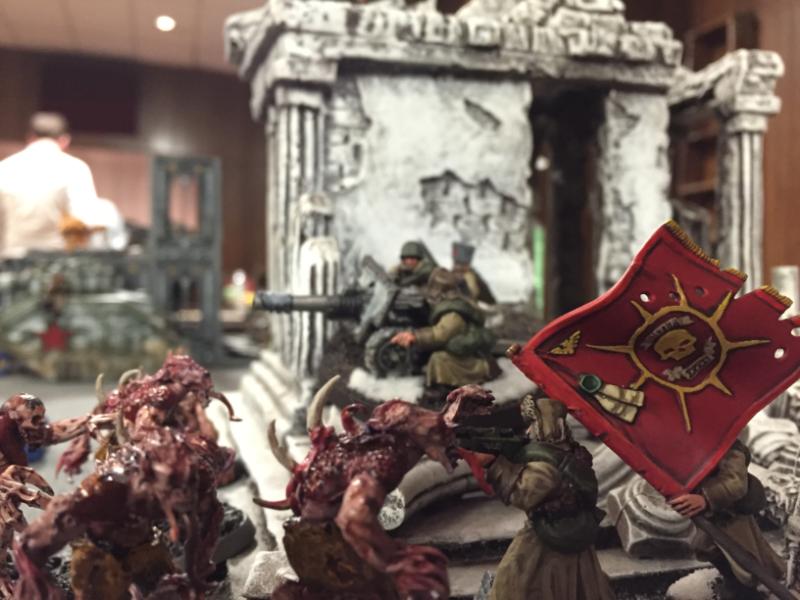 Overwatch did nothing and my troops were able to kill one Plaguebearer in assault, but the squad was all but run down. The officer, Colonel Petrov, fled from the combat, not quite getting off table. I get the feeling there's going to be some commissarial justice once all these boys get home...
Oh yeah, and more Plaguebearer packs were summoned around that area too.
On my go, Petrov runs off the table instead of regrouping. The chariot gets blown up by the Taurox with melta guys inside. My other Taurox's contents were pretty chewed up, so the surviving Commissar charges the Warsmith, causing a wound with his plasma pistol but failing to do anything else but get killed. I raced up the command Taurox with the survivng Medic in it and jumped him up onto the objective the Chaos Marines had just moved off of. I had a card for that objective and I figured if this guy couldn't save a single life, he could at least score a point. We had to play pretty fast so I'm missing some details, but the score is still pretty highly in my favor and we're both depleting our resources pretty quickly. My blob finishes off the Bloodcrushers in hand to hand, and I put some hullpoints on the Tzeentch soulgrinder.
He has to run his Chaos Marines, but they set up the inevitable firing squad on that medic: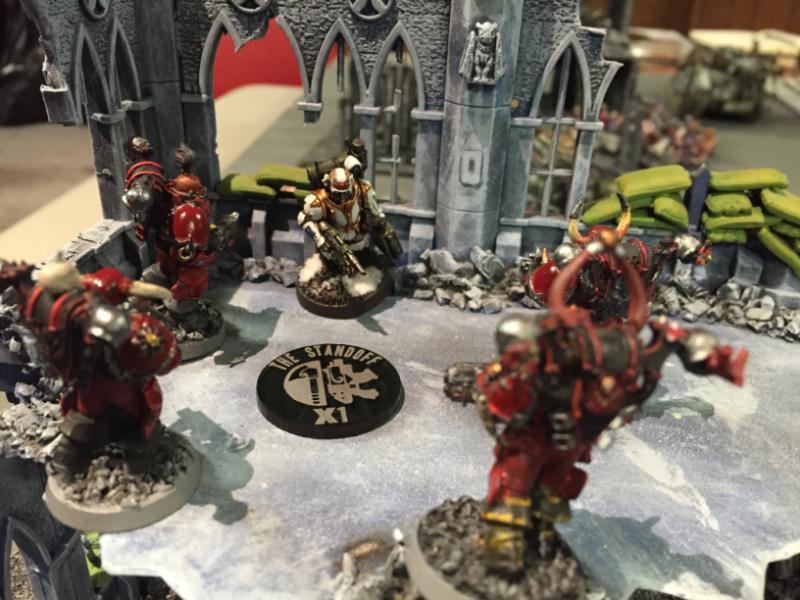 while his Plaguebearers try to get close enough to contest or take any objectives.He summons up the Bloodcrushers for the third time, and Horror packs drop in the building my mortar and aurocannon teams are holed up in. They finish off the Stormtroopers that the Lord of Change had stranded there while he went on to do something or other.
Turn 5 saw my melta Stormtrooper squad dismounting their Taurox and blowing up the Soulgrinder while my heavy weapons finished off the Lord of Change. My Leman Russ plastered the Horrors with a direct hit, hitting 11 of them. We called it here:
I got 2d3 extra victory points on turn 5 for Kingslayer and Overrwhelming Firepower cards, and was already up by a few. I totaled it up as it being an 11-5 victory for the Valhallans! It was a bloody game with a lot of good dice rolls and unit positioning from each of us, but he had bad luck with cards. I secured an early lead and was able to keep on scoring, turn after turn, and I ran away with the game. Still, a mutually destructive game with that much action was a load of fun!
In an instant, the Harrowed had vanished into a mist. Stormtrooper Vej blinked and his attackers were gone, leaving just him and his medi-pack in the ruin. The troopers of the Valhallan 32nd rejoiced as their pursuers collapsed into piles of meat and metal, knowing the day had been won.

Elsewhere, Petrov was still running.