Last Friday Fred and I tried to shake off some 40k rust. We headed over to TJ's to try 2000 points of daemons (the new daemon infestation formation from the Fenris campaign) and a combined force of Cult Mechanicus and Skitarii (Cohort Mechanicus).
We met in the ruins of an old forge, determined to make a solid stand against each other. There were twisted daemons facing off against augmented servitors in a Maelstrom of War mission, Cloak and Shadows. We had to keep our tactical objectives and total points secret and we decided not to use nightfight or mysterious objectives. Most of the objectives spread across the middle of the table and we rolled some fun warlord traits.
The formations were really important, because Fred's formation bonuses gave him the ability to grab an objective, move on and still hold the objective until one of my units "cleared the taint" of chaos off the objective. My formation allowed me to use the benefits of both my Skitarii and my Cult Mechanicus, which was pretty tremendous.
Fred deployed first, holding a solid chunk of his force in reserve, but setting the 3 soulgrinders up spread out – one on each flank, and one in the center – and throwing out several units of khorne hounds. A unit of horrors sat on an objective. For my part, the AdMech spread out in hopes of dealing with each soulgrinder and then punishing the middle of the table with firepower as Fred brought his other forces to bear. My Sicarian Infiltrators took the middle objective.
Here you can see the deployment and general table set up.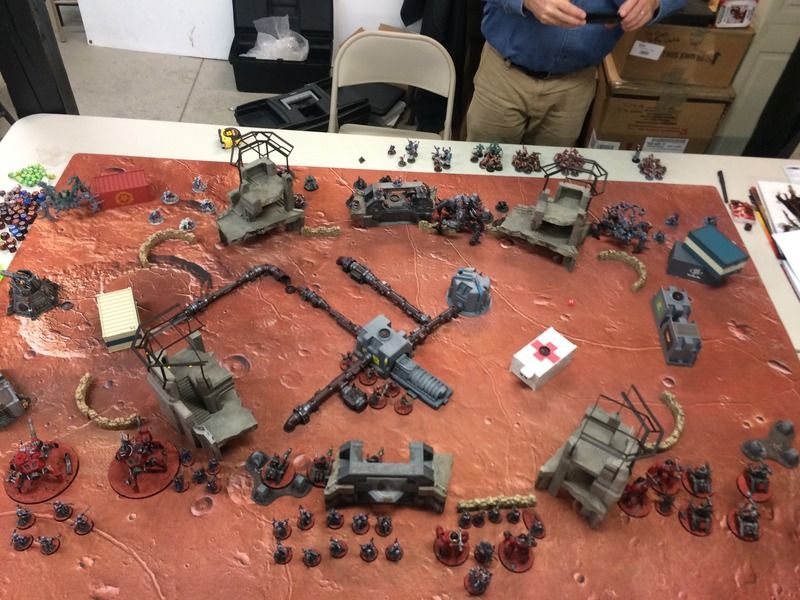 and long ways…
Turn 1. Daemons call upon the Storm of Fire Warpstorm, (which has little effect). In effect the Daemons moved forward and fired sporadically with little lasting damage, but charged the infiltrators I dropped in the middle to hold an objective, killing two and losing one and half hounds in return. In response, the Admech move up and begin shooting. One Soulgrinder is pulled apart due to the gravatic contortion from the breacher's weapons, giving the AdMech First Blood. The Admech has several fast units – but both of the units I charged with failed their assault rolls.
Here is a picture of the hounds and Sicarians mixing it up in the middle of the table.
And what the table looked like at the end of turn 1
Turn 2. Daemons find that the warp is calm (which is great!). Several Daemon units arrive from deep strike, most notably the Flamers with the Herald landing right behind my Tech Priest. Several units move forward and in the psychic phase the daemons pound my Robots and Datasmith – but the Tzeenthian Herald is dragged into the warp by the fickle powers of chaos! Between shooting and assaults the Daemons kill my Sicarians and all of my tracked Destroyers. Most importantly, Fred has been able to take over all of the objectives with his special daemon rules and achieves a major objective. (It is still secret… but later I discover this one card pretty much put the game out of reach – not because it is overpowered, but because I couldn't get any decent objective cards and I mismanaged my units and got overly concerned with combats).
The AdMech respond with bringing every bit of their firepower to bear. Clearing away a unit of bloodletters and almost wiping out two units of dogs and come very close to destroying the Khorne Soulgrinder. I charge my Dragoons into the hounds… but I really can't do enough damage to make it worth sacrificing my fast attack unit for several turns as they get mired in combat. Additionally, I charge my Corpescari ElectoPriests into the center to clear out dogs… But am unable to finish off the Khorne Herald (which will be my undoing). Unfortunately, I was not able to achieve any tactical objectives.
Fred's reinforcements: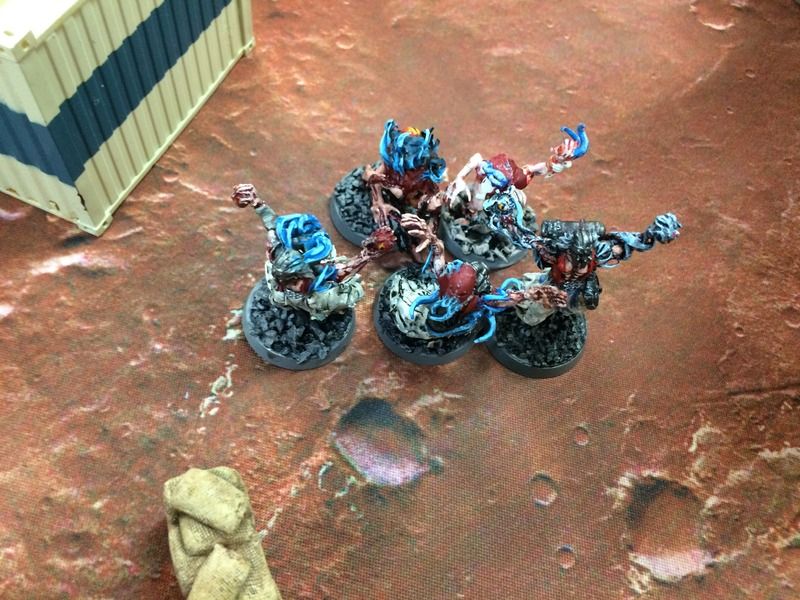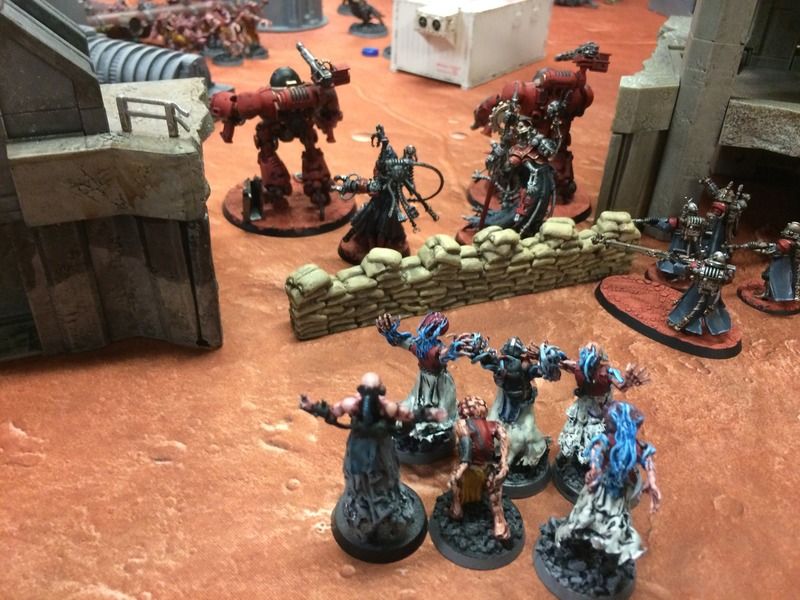 Here are some destroyers –
And now they are gone!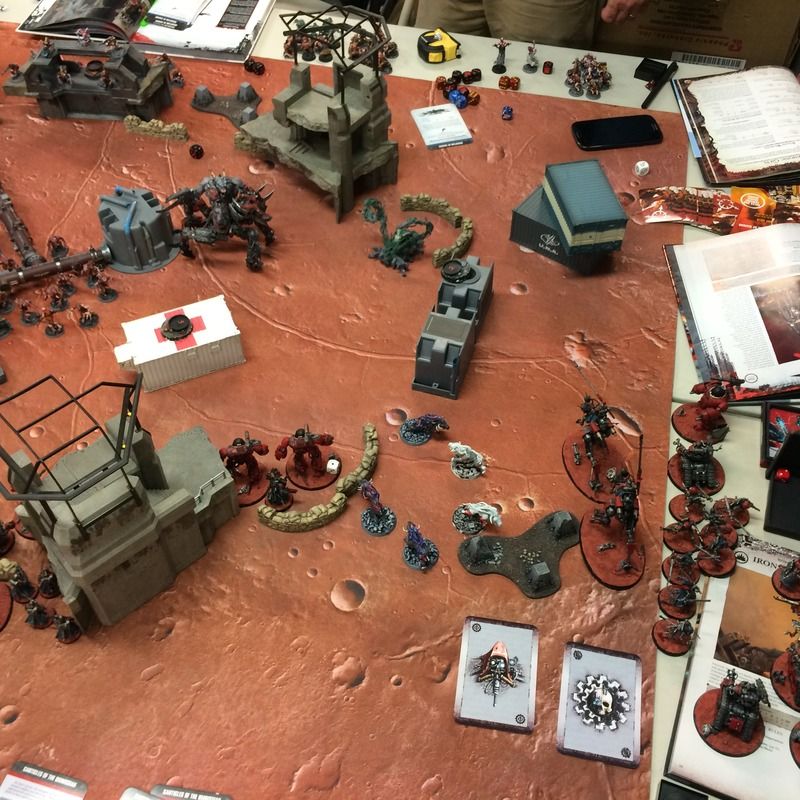 Charge you long legged bastards!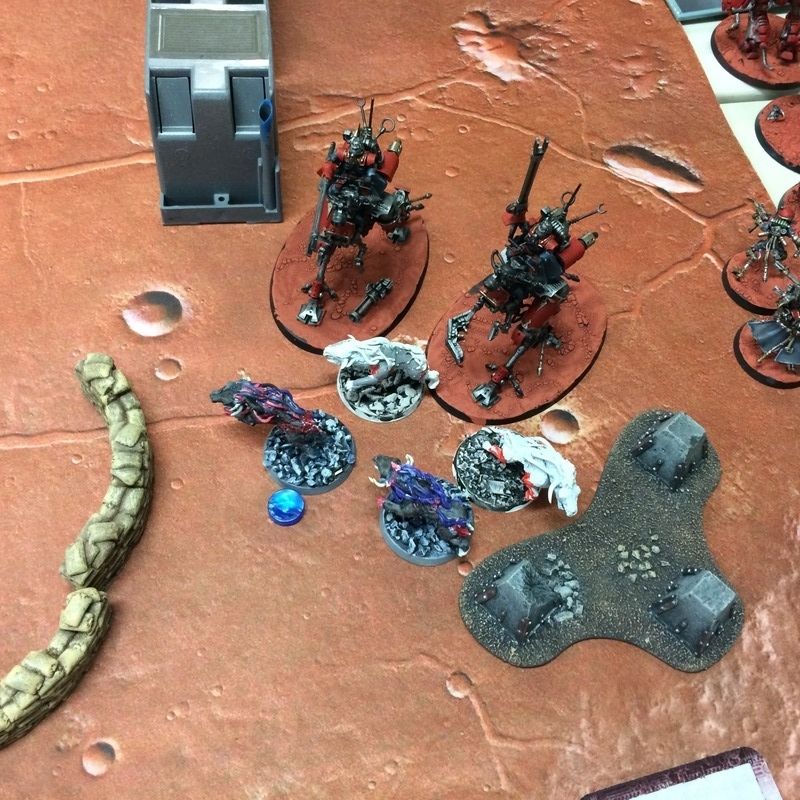 Fighting to get the center objective back!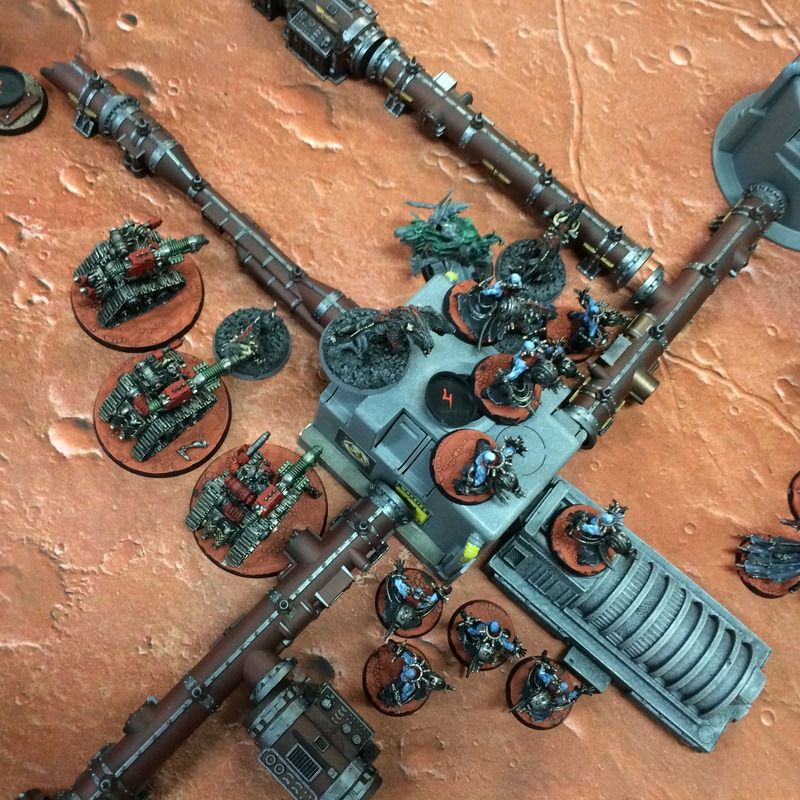 Turn 3 Just saw the daemons consolidating their positions and trying to blast away more stuff, while the Admech tried, unsuccessfully, to make anything happen. The end looked a little like this: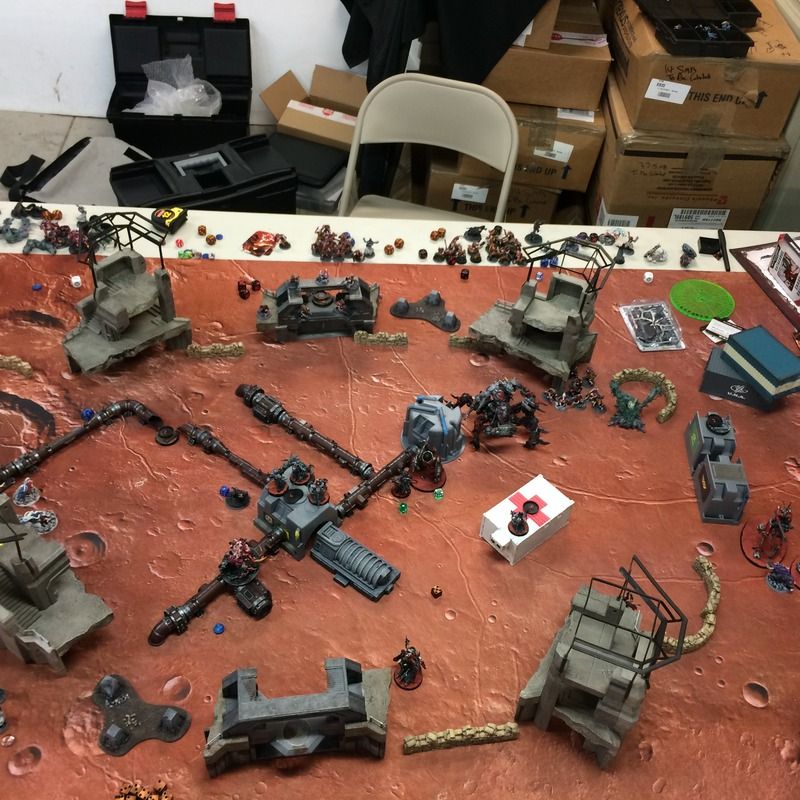 Fred had taken 15 points of Objectives (he got 6 just from one card - which put it out of reach for me early, especially because I couldn't get the cards on my end to get back into it), to my 3. The Admech fled from the site, unable to recover any useful information about the twisted Machinations of the Daemons or the treasures buried in the red sands…
I did take away a few things. While the formation for AdMech has some great bonuses, in order to get it into a 2000 point list I needed to cut units back to minimal numbers, which made it difficult for Skitarri troops to be effective. I think I should pick up that starter box (another DuneCrawler and Skitarri Unit) and some more Long legged striders with long range firepower and focus on just Skitarii or just Cult until I figure out the army. Also, I need to create a cheatsheet for this army. There are so many special rules for each unit and each units weapons… I can't manage it by just flipping through the pages. My hope is the next time I bring this army to a table top, I have some thing to help me manage my special rules, because I forgot more special rules in this game than I used.
Fred and I had a ton of fun playing and the table top look ace with our units fighting it out!
Thanks Fred!