I'm unfortunately still without a real camera and relying on my phone, but I was able to snap a few shots of my game tonight. It's not going to be like some of my battle reports, but I hope you folks like it just the same! 3 games into 6th now, and all the way up to 2000 points! This is actually a sort of rematch, as we played a small 1250 game last week with his Blood Angels and my Valhallans.
My list:
- CCS with MoO, lascannon, company standard
- Primaris Psyker with Enfeeble, Smite
- PCS with 4 flamers
- 20 man blob with power weapons, commissar, meltas
- PCS with 4 GLs
- 20 man blob with power weapons, commissar, meltas
- PCS with 2 flamers, GL
- 20 man blob with power weapons, commissar, meltas
- PCS with 2 GLs, 2 plasma guns
- 20 man blob with power weapons, commissar, plasma guns
- HWS with mortars
- HWS with heavy bolters
- HWS with lascannons
- SWS with sniper rifles
- Basilisk
- Basilisk
- LRBT with lascannon
- LRBT with lascannon
My opponent forgot that you got 2 FOCs at 2000 points, but I didn't mind. I also don't know GK very well at all so I'm sorta guessing here:
- Grand Master with psycannon
- Librarian in Terminator armor
- 5 Terminators with psycannon
- 10 man Strike Squad with incinerator, psycannon, hammer, halberds
- Land Raider
- Psyfleman Dreadnought
- Dreadknight with heavy incinerator, DCCWs, psycannon
Allied detachment:
- Primaris Psyker with Spontaneous Combustion, Sunburst (?)
- 10 veterans with GLs
- Leman Russ squadron with LRBT with lascannon, Vanquisher with heavy bolters
I think that's everything! We rolled for our mission and came up with Hammer and Anvil deployment - great! More range for my Basilisks! The for mission we rolled up Kill Points. The Emperor giveth, but he also taketh away...
++ This is artillery sergeant Mikhail reporting from the depths of Sturmgrad. One week ago the Blood Angels descended on our once fair city, bringing with them devastation and bloodshed. We fought them from our homes and familiar streets and drove them back from whence they came, never knowing why they came to Hope's Reach. As I gazed out from my binoculars, I see something silver and shining in the smoke-choked sunrise. They think they can sneak up on the men of the Valhallan 32nd, but we'll show them! ++
Deployment looked something like this: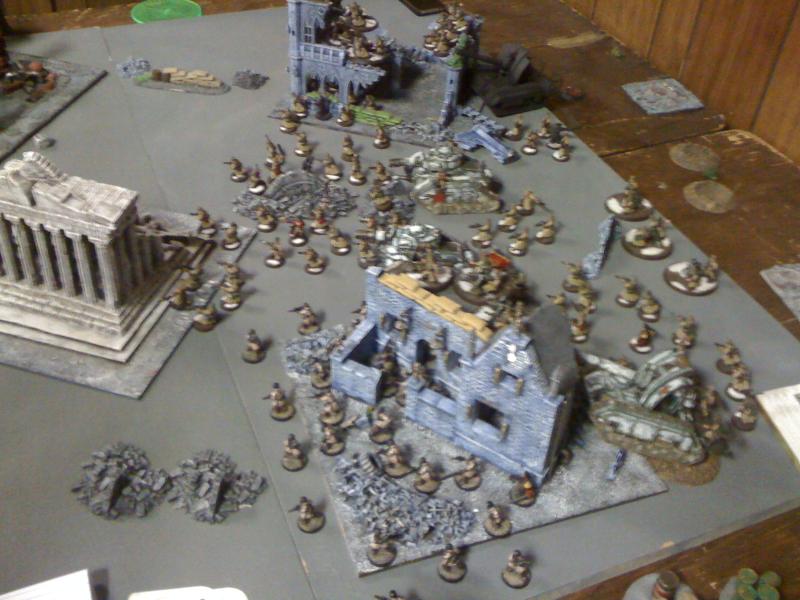 It is just as messy as you think it is! Somehow I was able to keep the squads separate with something like 120 infantry models in my deployment zone. The Steel Legion (plasma) platoon is anchoring the south, and there are Valhallan platoons in the center front, center back near the artillery, and up in the ruined building with the lascannon teams and snipers. My opponent had the Leman Russes in an alley near the red building at the top left and a Land Raider with the Librarian and one Strike Squad combat squad in it was on the other side of that central building with the columns. The veterans and Primaris are hidden behind the red building near the tanks, and the Terminators with Grand Master, Strike combat squad with the psycannon, and Dreadknight are all in reserves. He won deployment, but I seized the iniative! He then rolled for nightfight and welp, it was dark for the first turn. Once again, the Emperor giveth and the Emperor taketh away... My strategy this game is to hold the line, and start with my forces consolidated enough that he can't deep strike anywhere in my line! Here's the view from the model's eye: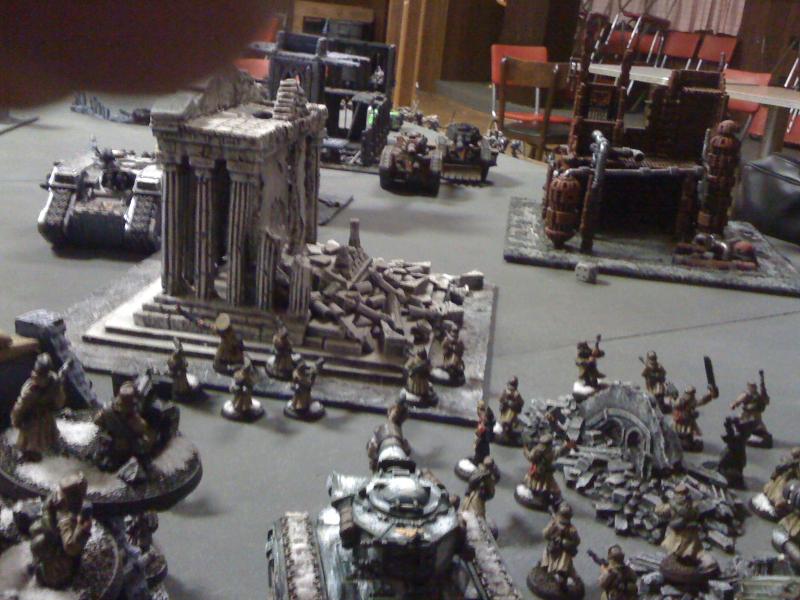 ++TURN 1++
I do a bit of moving, but I still want to hold my position. We didn't see anything about it specifically in the rules, but figured Ordnance Barrage weapons don't need line of sight anyway, so could still hit things outside 36" for nightfight. My MoO and Basilisks blasted out one hull point on the Land Raider, but failed to do much else. Most things were out of spotting range due to the dark. I also realized my CCS was out of position to actually give orders to things, so I moved my commander out with a few other guys to get him closer to my central army.
++ Looking behind me I could see the dawn illuminating with the fire from the guns of the Valhallan 32nd. In all my years of service to the Emperor, the sight and sound of guns still fill me with pride and zeal. ++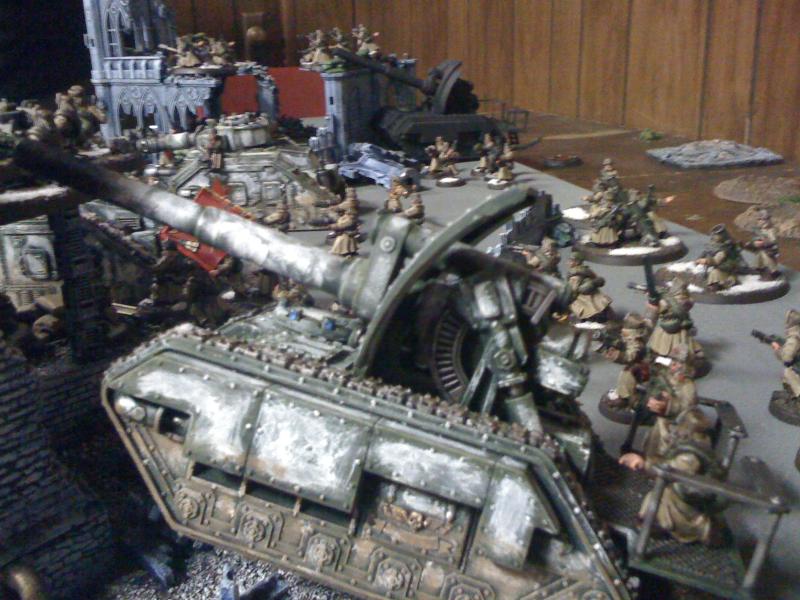 He moves his tanks up, and is able to draw a bead on one of my two Leman Russes with his squadron. He fires and the shell scatters off, right into my command squad! After cover saves and LoSir rolls, I only lost two men! Unfortunately, those two men were my company standard and my company commander! Elsewhere he moves his veterans up behind a ruin and his Psyfleman shoots up my southern Basilisk but cover/shrouding stops the shots.
++ I saw fire erupt from the breaking dawn as the tanks of our enemies spat fury at us. I was knocked off my feet by the blast, and saw the bloodied form of Colonel Petrovik half-buried under the rubble surrounding us. Chaos erupted over the comms as each squad briefly lost all semblance of coordination until the Commissars and Lieutenants whipped them back into order. ++
++TURN 2++
I still keep fairly tight formation with my infantry, but I'm able to put some fire downrange. The lascannon team blows the near lascannon off his Land Raider, and shake it! The Basilisks are able to put a few hullpoints of damage down on the Leman Russ squadron, but nothing sticks.
Grey Knights arrive from reserve. The Dreadknight tries to drop up north, but mishaps and is delayed a turn. The Strike Squad combat squad drops up in the northern ruins behind my blob and lascannon teams, but near the snipers and Basilisk. His Terminators find the tiniest gap in my backfield behind a Leman Russ and drop there. Blurry picture go!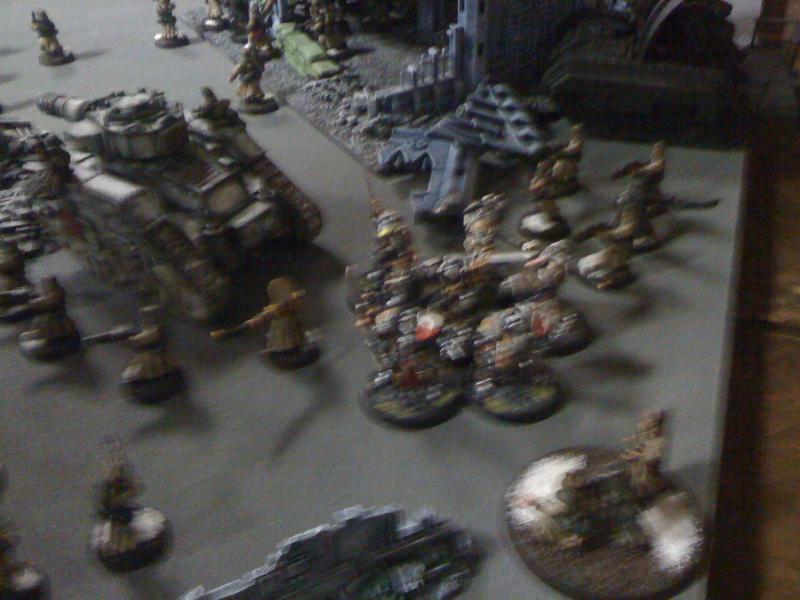 The Librarian and his Strike Squad buddies also run out of their temporarily halted Land Raider:
Shooting erupts and the Strike Squad is able to blow the Earthshaker Cannon off my unpainted Basilisk. The Terminators and Grand Master open fire on the rear armor of my Leman Russ, wrecking it. The Psyfleman stuns my Basilisk. The Librarian and his buddies just go straight for the charge at my Steel Legion, and Overwatch fire drops one halberd! A chainsword sergeant challenges the Librarian and takes one for the team while the rest of my squad ineffectually bounce their bayonets and ostensibly powered swords off the Grey Knights. I lose four dudes and pass morale.
++ The Grey Knights are upon us! Take up defensive positions! Zero in our Basilisks on those tanks! ++
++TURN 3++
Now is when I get to use some psychic powers! The lead blob with the Primaris Psyker cast Enfeeble on the Terminators, who fail to Deny The Witch. This malediction makes them Strength and Toughness 3, and makes them count as moving through difficult terrain! I then proceed to FRFSRF with a blob at them, shoot my heavy bolter team at them, and shoot them up with the nearby mixed arms PCS. Shooting brings them down to just one model! The northern blob and sniper team are able to bring that Strike Squad down to one model, while my MoO finishes off the Land Raider! The Leman Russes continue their piddling match and bounce shells off each other, while my mortars miss their mark on the veterans. Assault sees the Steel Legion losing, their Commissar executing the remaining sergeant, then running anyway! The Grey Knights consolidate after them, my CCS in their sights. End of the turn looked like this: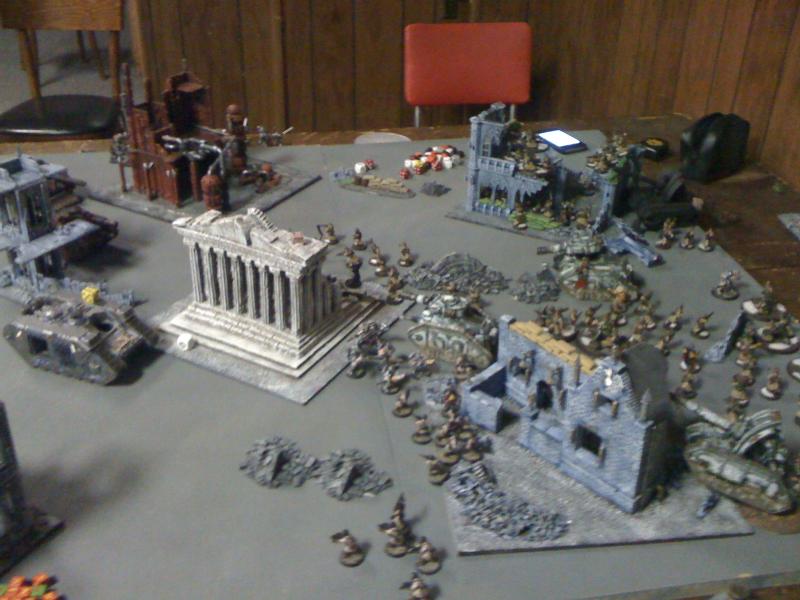 The Dreadknight re-deepstrikes, right up north where it wanted to go. The Librarian and his squad chase after my Steel Legion:
They shoot their incinerator and the Steel Legion duck under the flames only for the CCS lascannon team to get torched! Cover saves are made on shots beyond that.
++ The fight had come to me! I clutched my binoculars to my chest with one hand and my pistol with the other as bolter shells ripped over the short wall I was taking cover behind. I glanced over to see the crew of our lascannon get incinerated by the surely unholy weapons these silver Space Marines were wielding. ++
The lone psycannon Strike Squad guy up north went around and shot the Basilisk, knocking another hull point off, and the remaining Terminator went after the mixed arms PCS backed up against said Basilisk. The Dreadknight shot its heavy incinerator, and since I wasn't paying attention over there was able to torch 15 of my men! The Dreadknight shot my south Basilisk, exploding it and killing one of my heavy bolter teams and a melta from another squad. Leman Russes target my flamer PCS and kill all but the Lieutenant after he goes to ground. His veterans shoot up my Primaris blob, killing a few and his Primaris spontaneously combusts my Commissar. No Witches were Denied. Assault saw the Librarian's squad unable to reach my CCS, as there were squads intervening who didn't take casualties from the Incinerator and Psyker flame power. The lone psycannon gunner up north hit my Basilisk with a krak grenade, exploding it. The explosion kills the three snipers from the SWS, forcing a morale test that sees the remaining lasgunners running off the table. It also hits my PCS, doing nothing, but killing his charging Terminator!
++TURN 4++
The Steel Legion blob regroups, but only after the Commissar racks his bolt pistol and puts down one more chump for a reroll... I cast Enfeeble, but this time on the Strike Squad with their Librarian buddy. I surround the unit with two blobs and gun it down. The lascannons plink a hull point off another Leman Russ, my MoO does the same, and I've now done 2 hull points to each, due to the allocation weirdness of Ordnance Barrage weapons. My Dreadknight'd squad of 6 dudes finishes off the lone psycannoneer, and the Primaris' blob head up towards the veterans. FRFSRF ensues, killing some, but not all of them. Mortars and heavy bolters knock them down to one GL and the Primaris. The Steel Legion PCS has been chasing the Dreadnought all game and go after him, doing nothing. End of the turn looked like this: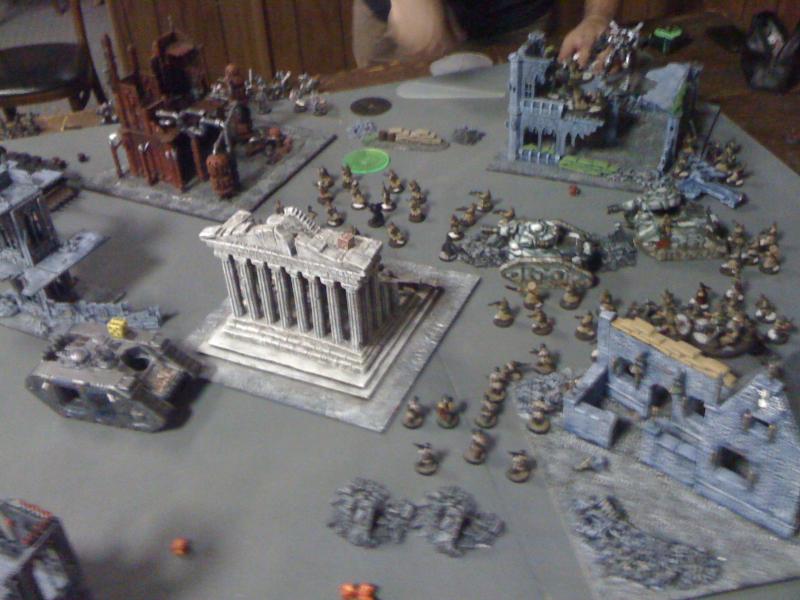 The view is a bit better from the rooftops:
The Leman Russes blow away more dudes from my Primaris blob, and the Dreadknight torches my lascannon teams. The dreadnought kills the Steel Legion PCS gunners, leaving the Lieutenant alive and well. We look at the clock and it's 10:15, and we have to be out of there in 15 minutes. We call it a game and count up killpoints - he's got way more of mine than I do of his, purely by virtue of my multiple fragile squads and my tanks being split up into 4 units instead of 2. He also got First Blood and Slay the Warlord, thanks to a lucky Leman Russ shell on turn 1. Victory goes to the Grey Knights!
++ While it appeared we were driving these wretches back from our city, a strange mechanical monster appeared in the north, spewing flames and seeding terror in our ranks. Shells continued to come down on us, and strange, boxy, silver aircraft started appearing above us. The city was in shambles, and the Lieutenants sounded the retreat. Colonel Petrovik was dragged from the rubble, battered and bloodied but still alive. Maybe once he recovers he can bring us back to this city so we can drive out the enemies of the Emperor once more. Until then, artillery sergeant Mikhail signing out.++
- 'Though my men may sleep, and my ships rest at anchor, my foes know full well that big guns never tire'
Thoughts:
That was a brutal game! There was decidedly little close combat, but the blasts getting slung back and forth every turn were doing a lot of damage, My casualties actually weren't that high numerically, but I was at a severe Killpoint disadvantage, my list having 18 and his only having 10. 5 man T3 squads don't tend to last that long under fire, but usually the blobs can make up for that. Running four blobs was a lot of fun though, even if the "power" part of "powerblob" didn't come into play, as I couldn't roll fives to save my life! Overwatch feels like it just hasn't clicked yet for me, as I was only able to drop one Grey Knight with it. There weren't many charges though, so I'll give it that. Deny The Witch is borderline useless, as between the two of us nobody ever denied any witches that game! Even with his psychic hood and Mastery Level 2 psyker, he couldn't stop my Enfeeble spells. However, Enfeeble is
amazing
. It was like my Guardsmen were all armed with FRFSRF bolters! I wish I had more firepower to bring to bear on the Leman Russ squadron though; those tanks were a pain and I couldn't do much about them. The Basilisks should have worked well against them, but I was understandably a bit busy trying to knock out his Land Raider! I had a really hard time knocking out that vehicle squadron, even if his Vanquisher wasn't doing anything for the majority of the game. It was fun though, and we're definitely getting the hang of it - last week was 1250 in 2 and a half hours, this week was 2000 in almost 3. If we had another half hour we could have definitely finished the game. Anyway, it was a lot of fun, and I can't wait for the next brutal slog with the Valhallan 32nd Rifles!